Breakers invest heavily in new talent and the hard work is beginning to pay off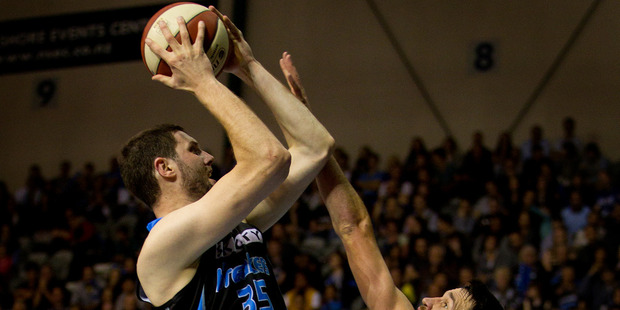 When watching Breakers centre Alex Pledger hustle across the hardwood floor, it's impressive to see how much he has grown.
The 25-year-old is 2.2m - having sprouted into the tallest professional sportsman in New Zealand, but it's his on-court progress with the Breakers this year which has really caught the eye.
Pledger has established himself as one of the leading big men in the ANBL this season and will be rewarded with his 100th cap tonight when the Breakers take on the Cairns Taipans.
Pledger has made a successful transition from integral player off the bench last year to starting centre in this campaign, and leads the league in blocks per game (1.5) and offensive boards (75).
Breakers coach Andrej Lemanis has invested a lot in Pledger's career and the former American college player was widely tipped to be a game-breaker since joining the Breakers in 2009/10.
But it wasn't until this year, when two-time NBL champion centre Gary Wilkinson was released, that the door really opened for "The Chief", and Lemanis' faith in the young star was rewarded.
"Just to see his growth over these 100 games is very pleasing from a coach's perspective and also a club perspective," Lemanis said.
"We've invested in him as a young player and he's come through, he's improved and now he's delivering and has a bright future in front of him."
But Lemanis still sees plenty of room for Pledger to develop, and believes solutions to some issues surrounding his game - like the struggles he displayed with his offensive footwork in Thursday night's 104-74 win over the 36ers - can be ironed out with experience.
"It's a continual process of getting better and improving and I hope that's true for everybody, I hope I'm still getting better as well.
"The more he plays, the more practice he gets through and the more comfortable he is with what his moves are going to be in those situations, the better player he is going to be. He's a pretty good one now and the improvement is going to be exciting."
Pledger was caught unawares by his impending 100th cap, but is proud of his achievements in a Breakers singlet.
"I didn't know that it was 100, to be honest. I figured I was getting close but it is an achievement I am proud of," said Pledger.
"Since the New Year I have been solid." The Breakers are confident their club record 13-game winning streak, like their big centre, will continue to grow.
• Breakers v Taipans: North Shore Events Centre, 7.30 tonight