With the Auckland Cup won Busuttin is already looking ahead.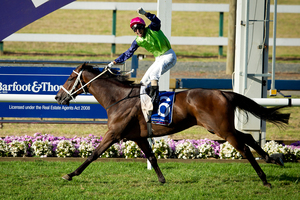 Moments before Sangster came out of the Ellerslie barriers like a gazelle to win the $500,000 Barfoot & Thompson Auckland Cup an entry form for May 19's $3 million Singapore Cup went through the Auckland Racing Club's fax.
It's called planning.
The same intricate planning that allowed Sangster to win yesterday's feature so easily.
Trainer Trent Busuttin hatched a plan to get Sangster into yesterday's race on as light a weight as possible.
It worked so well that topweight Spiro went into the Cup on a rating of 104 and carried 59kg.
Sangster was the highest rated runner on 106 and carried 54.5kg.
It made him a certainty.
Sangster looked brilliant poncing around Ellerslie with almost an air of contempt yesterday.
But it wasn't just his huge ability that allowed it - Trent Busuttin won the race for him months ago with his planning.
The $2 price on the tote was what made Busuttin nervous yesterday, rather than any doubt about his horses chances or ability.
"The shorter the price, the more the pressure. It's always the same. Stephen McKee said it was that way with Sunline."
Reality however is that only bad luck could have beaten Sangster, who easily downed a slightly easier field in the Avondale Cup last start under 59kg.
Busuttin finally agreed. "He was a weight-for-age winner running in a handicap on a very good handicap."
Sangster leapt out of the starting gates so quickly Trent Busuttin and training partner Natalie Young thought for a few seconds it might have been a false start.
The rugged stayer raced keenly when positioned in behind the longshot pacemaker The Hand Of Faith.
That worried many of his army of supporters, but bomb-proof Bosson was unconcerned as usual.
"He often races with his head held a bit high - it's just his galloping action.
"But he must have thought it was the Railway [1200m] when he jumped out."
The Singapore Cup is 2000m at weight-for-age and being in May would allow time to get Sangster back home and prepare for the Melbourne Cup if that is the desired path.
He certainly looks good enough, even if yesterday's field is a long way from what he would meet at Flemington.
Sangster, who had not worked at all during the race dashed well clear at the 375m. El Soldado was never a chance to pick him up, but the under-rated stayer deserves credit for how hard he tried.
Chaparrone fought on for third three and a bit lengths away ahead of Savanah Rush, Spiro and My Scotsgrey, but it was a one-horse race from two weeks ago.
Rival trainer Shaune Ritchie summed it up when asked by a media rep if he thought his horse My Scotsgrey could win.
"You only have to read or write to know Sangster will win," came the reply. The Sangster ownership syndicate members were readying for a big night as syndicate head, Wellingtonian Tommy Heptinstall declared: "Didn't he give him a ride.
"It's going to be a big, big night."
Yes, when they win like that, even if Heptinstall is teetotal.