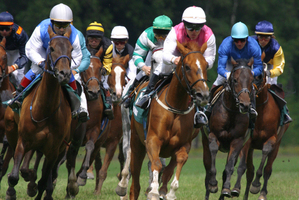 Will it be a thrilling victory or an energetic win in tonight's $80,000 MTA Auckland Cup (R10, 9pm) final at Manukau?
The TAB bookies reckon it will be one or the other after the two qualifying rounds for this group one final over 527m.
The Karen Walsh-trained Thrilling Quest ($2.50) and Raw Energy ($2.20), for John McInerney, dominated in both rounds, stylishly winning their heat and semifinal assignments.
Thrilling Quest was sublime in slipping through her semi in a smart 30.36secs. She has drawn ideally for her racing style out in the seven-trap.
"I'm over the moon with her form and also with her draw. I got the box I wanted. She's a good little beginner and providing she rallies up, then she will give it all from there. She is jumping out of her skin," said Walsh, who trains for leading dual-code owner Gary Harding.
Raw Energy has been delivering slick midrace sectionals and that has led to his convincing pair of wins in this series, which included his 30.41sec semi win and he jumps from the one-trap tonight.
"We believe he is still improving. What has impressed us is that he's a thinking dog - in his semi he cut down to the rail after he had cleared inside traffic. Hopefully, he will now be peaking at the right time. He travels nicely and he's all ready for Thursday," said the trainer's son Jonathon.
Maramarua trainer Steve Clark has mentored his charge Riley's Mate into the runnerup possies in this season's NZ and Wellington Cups.
"If he jumps, which he must do as he doesn't like being jammed up, then he is capable of leading them. He's great, all set to go," said Clark.
Of the others, Walsh also guided Thrilling Ella through this series unbeaten so far. The potent Dave and Jean Fahey training factor can never be ignored in any group race and Pretty Good can deliver for them.