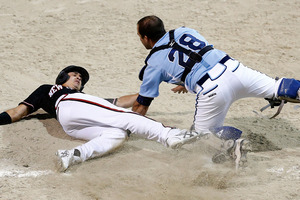 The Shannon twins, Heinie and Patrick, are used to battling through adversity. Last year, Heinie fought off a severe, agonising injury around his pitching elbow to keep leading the way for Auckland and his club team, with catcher Patrick driving him on.
Heinie Shannon was in so much pain carrying Auckland to victory that with towel on head, he cried between innings.
With his twin behind the plate, Heinie again defied pain at the softball world championships in Albany last night, inspiring a 2-1 victory over Argentina that has New Zealand on course for a double-life playoff match against champions Australia on Friday.
Heinie has a torn right calf muscle injury that had him limping to and around the pitching mound against the respected Argentinian team at Rosedale Park.
As the park commentator said, the Kiwi pitcher was virtually operating on one leg.
But the limping leftie kept at it for almost seven innings, before Nik Hayes was called on after an Argentinian run.
"We don't often use the word heroic in softball, but that's what it was," said coach Eddie Kohlhase.
"We always planned for him to play Argentina and the injury can't get any worse. You won't see him in the pool games again, but we could see him again in the playoffs. It was an incredible effort from Heinie."
Shannon reckoned he would be up for more action in the tournament.
"I threw everything I had at them tonight - the kitchen sink and everything else," he said. "There was a lot of pain but I knew I could last."
The batting backed him up sufficiently, with a Thomas Makea home run the highlight.
There were two excellent double plays from infielder Nathan Nukunuku, the second after a successful Kiwi protest.
And Patrick Shannon did fine work at home plate to prevent a run after a Ben Enoka recovery in centre field.
The game was a battle for second position in Pool B. Canada is set for top spot on the tied team formula despite losing 1-4 to Japan.
New Zealand will need to lift for Friday's almost certain showdown with Australia.
Australia carried on their unbeaten way in Pool A, accounting for Venezuela by 5-0. They should be too strong for Samoa today, and the Czech Republic tomorrow.
In another late game featuring New Zealand's remaining Pool B opponents, the Netherlands beat the Philippines 8-4.