New coaching staff and the arrival of some heavy-hitters has freshened up the club, writes Michael Brown.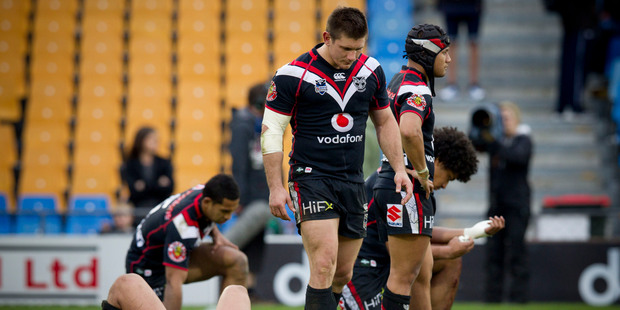 The Warriors have put together a motivational video that opens with images of them putting a line in the sand around what happened last year.
It's a familiar metaphor teams often employ to try to forget about what happened last time and ensure they make a fresh start. As far as they are concerned, it is a new team with a new coaching staff and a new chance to make an impression in the demanding competition.
Metaphors are, however, just that. It's pretty easy to get a stick and draw a line in the sand in the hope of leaving behind one of the most disappointing campaigns in the Warriors' history.
Results are the only currency in sport - it's what cost Brian McClennan his job as they lurched to 14th just 12 months after playing in their second grand final - and the Warriors of 2013 will be judged by what they achieve over the next seven months.
They still go into the new season with plenty of baggage, given they are still on a club record eight-game losing streak and lost their first two pre-season games.
A 16-10 win over Brisbane in Dunedin 10 days ago came at a critical time.
"I think it was a hurdle we bounced over last trial match," new coach Matt Elliott said in relation to the club's losing streak. "I'm trying not to place any relevance on what happened last year because we have prepared differently, are essentially a different group and our mentality is different. I felt it was definitely a lingering thing, though, going into that last trial."
For some players, 2012 holds little relevance. "Are we still talking about last year?" halfback Shaun Johnson queried when asked about the subject. "Last year has happened and we can't do anything about that so why dwell on it? I think it's unfair to look back on last year at this time. We are going into a new season."
For others, however, it's not so easy to forget.
"It was pretty disappointing," captain Simon Mannering said. "We let a lot of people down - a lot of people who supported you and what the club represented - and we got a pretty poor reputation. You try to put last year behind you but you definitely don't want it to be something that happens again. That makes you want to work harder, perform better and do well for the club."
There's little doubt the players have worked hard in the off-season. Their level of fitness, Elliott says, is such they could play a game, have a shower and then lace up the boots for another match. But one of the biggest changes Elliott is trying to make is mental and it's principally around implementing standards off the field that bring success on it.
It's an area of the game most across the Tasman cite when it comes to the Warriors and something Elliott identified when he was coach of Canberra and Penrith. Opposition teams always felt they had a chance against the Warriors.
"Attitude was their big drama last year," former Queensland and Brisbane five-eighth Ben Ikin said. "It certainly wasn't talent. They had a roster to go much further than they did. They just didn't want it as bad as they did the year before. That shone through most specifically in their defence. They lost their ability to get into the grind not only across the regular season but even in 80 minutes and to do that requires a mental toughness. They have always been a side who have struggled with routine and grind.
"[Former Australian prop] Shane Webcke said, 'consistency isn't hard, it's boring'. It's what Manly and Melbourne have been doing since 2006. They just have a standard they don't drop beneath. I just feel with the Warriors that if they don't have this burning desire to play hard their default position is 'not interested'."
The arrival of centre Dane Nielsen and second-rower Todd Lowrie, who won the premiership with Melbourne last year, and five-eighth Thomas Leuluai, who helped Wigan to their first UK Super League title since 1998 with a man-of-the-match performance in the 2010 grand final, will help. They have also added outside back Dominique Peyroux and young halfback Harry Siejka.
With the new coaching staff and new facilities, it has created a freshness about the club. There will also be tweaks to the game plan which are likely to see a similar approach to the one played under Ivan Cleary.
Elliott met with his halves this week to talk about their role and used a different metaphor about them being the team's rudder. They couldn't jump in a kayak, he said, and move the rudder around without firstly gaining momentum. It's the same on the field.
"We have to acknowledge what we do better than any other team in the competition, we promote the ball in contact pretty well," Elliott said. "It would be ridiculous to suppress that.
"But what we have to do is evolve. We will probably be a little more conservative at the front end of games and front end of the season. We have to earn the right to play."
A wiser Leuluai returns to Warriors
Thomas Leuluai never intended to return to the Warriors after his first, unsuccessful stint with the club as a teenager, but had no second thoughts about joining this year.
Leuluai was lured to Mt Smart Stadium by Brian McClennan, signing as early as November 2011, and watched in surprise and disappointment as the club slumped to eight straight losses and a 14th-place finish.
"I made my decision so early I didn't see much point in looking back," he said.
"I couldn't change it and the reasons for coming back were still all there. If I didn't have any family here, I might have thought it was the wrong decision ..."
Leuluai made his Warriors debut in 2003 as an 18-year-old, becoming the youngest to play for the club, but found his way blocked by Stacey Jones and Lance Hohaia and struggled to make an impression in the NRL. He was also poorly treated by the club and opted for a fresh start with the London Broncos in 2005.
He developed a reputation as one of the best players in the Super League and enjoyed five largely successful seasons with Wigan, scoring 60 tries in 189 games.
He has been signed by the Warriors to play in the halves but is equally comfortable at hooker.
He is a good defender, has a strong kicking game and returns with considerable experience.
Some will remember his limited contribution as a teenager, others have seen him play for the Kiwis.
But the Leuluai of 2013 is a largely unknown quantity. "You always have to prove yourself," he said.
"Every time you go on the field your reputation is on the line.
"I played eight years over [in the UK] and feel content about what I achieved. But I feel like a new kid on the block now. When I was here I was 17, 18. That's young, man. That's younger than anyone else playing.
"I always ask people what they were like at 18. I had some rough ones at the start but I have grown up now and don't worry about the small stuff."
Tomorrow:
A fresh look for brand Warriors
Play Virtual & Fantasy League - starts Thursday 7 March
Test your tipping skills with Virtual or create your dream team with Fantasy NRL and be in to win a slice of over $7,000 in prizes.
Be part of the game and sign up now.
- APNZ