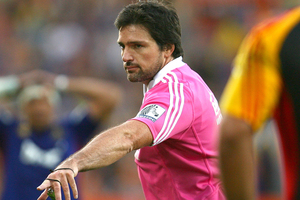 Controversial referee Steve Walsh won't be disciplined after complaints from the Hurricanes following their loss to the Reds in Brisbane last weekend.
Hurricanes coach Mark Hammett complained about Walsh's performance in the 18-12 defeat and, while Bray conceded Walsh got a couple of calls wrong in the final 20 minutes, he got 93 per cent right overall.
Walsh was also involved in an incident with Conrad Smith when he appeared to push the Hurricanes captain but SANZAR referees boss Lyndon Bray said there was nothing in it.
"It's just one of those things that happens on a rugby field, accidental contact between the two, because they're both getting into exactly the same spot at the same time,'' Bray said.
"So they were naturally in each other's face as they turned and so they were inevitably going to collide. Steve had momentum on his side obviously because he's about to start racing up 10m.''
Walsh doesn't have a game this weekend but that decision was made before the opening round of Super Rugby.