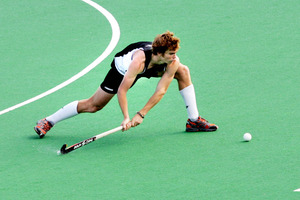 The New Zealand men's hockey side won the first of two tests against Malaysia 3-2 last night (NZT) as they prepare for the defence of the Sultan Azlan Shah tournament starting in Ipoh, Malaysia, this weekend.
Although the two Malaysia games count as official test matches, Black Sticks coach Colin Batch is using them to get them ready for a tournament they won last year.
"Having just arrived, we were affected by the heat and travel, so it was about staying positive and rising to the challenge. And I think it was an opportunity well taken by the players as we build towards Azlan Shah this weekend,'' Batch said.
The Black Sticks played with only 15 players last night due to late arrivals from Jared Panchia and Kane Russell who had been at the junior world cup qualifiers in the Gold Coast and also Blair Hilton who was travelling from Europe.
There are nine players in this team who have less than 10 caps, and all except three players are aged 23 or younger.
``This tournament is a chance to develop some of the younger players and give those training hard the opportunity for international competition,'' Batch said.
In last night's game, the Black Sticks started each half well but found themselves under some pressure at times.
The first goal came in the 22nd minute from Andy Hayward - a spectacular flick that went high into the right-hand corner. Malaysia responded with a field goal three minutes later but Hayward scored his second when the ball went high into the left-hand side of the net, despite the keeper getting a glove to it. Hayward narrowly missed grabbing a hat-trick on halftime.
New Zealand made an error in defence early in the second half which Malaysia made the most of, as Abdul Jalil Tengku Ahmad Tajudin deflected a shot past Hamish McGregor who could do little to stop it.
Jacob Smith, who had a strong game, scored the winner in the 65th minute when Shay Neal alluded the keeper and floated a ball back across the front of the goal for Smith to tap in.
The Black Sticks play their second game against Malaysia at 1am tomorrow (NZT). The Sultan Azlan Shah tournament starts on Saturday with New Zealand taking on Pakistan, Malaysia, Korea, India and Australia.
New Zealand 3 (Andy Hayward 2, Jacob Smith), Malaysia 2 (Saari Faizal, Abdul Jalil Tengku Ahmad Tajudin). HT: 2-1.
- APNZ