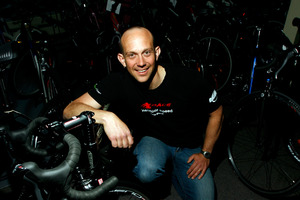 The coach of New Zealand's successful sprint cycling programme fears New Zealand will lose ground quickly unless they find the money to send more riders to Europe.
Justin Grace, who is in charge of the men's sprint team, said financial pressures were jeopardising BikeNZ's high performance programme, with the national body having to make cutbacks in response to increased competition costs.
Unable to fund overseas campaigns for all its riders, BikeNZ is having to prioritise its programmes this year after overspending $251,000 in the high performance budget last year.
The national body could afford to send a team of only five to the track cycling world championships in Belarus this month, with the women's and endurance teams missing out on the event.
The young team of Aaron Gate, Simon van Velthooven, Sam Webster, Ethan Mitchell and Eddie Dawkins performed with credit, picking up a gold and two silvers to finish sixth on the medal table.
But Grace admitted he would like to have taken a bigger team to Minsk to give him more options for the team events.
"It is frustrating to know we only had a small team because of the budget, but we went and did what we could, and what we did was actually pretty impressive," he said.
Changes to the UCI rules on qualification mean New Zealand is likely to have to get used to sending small teams to world championships.
Where they were previously able to select their best teams to go to the worlds, they now have to qualify individual riders for every individual World Cup event where they pick up points to qualify for the world championships.
"We need to do a lot more races, and send a lot more people to a lot more places all year round, so we can't kind of pick and choose what events we do like we used to," said Grace.
"That's what's really holding us back at the moment, we just can't afford to do the travel like the European-based teams can."
The increased costs mean BikeNZ is having to trade-off its national programmes against one another.
BikeNZ received $15.6 million from High Performance New Zealand in the latest round of funding, up $300,000 from the previous four-year cycle.
But it faces a couple of expensive campaigns over the next 18 months, with next year's world champs in Colombia, and the Glasgow Commonwealth Games shortly after.
Kieran Turner, BikeNZ's chief executive, said it was likely they would have to focus more on development than campaigning over the next two years.
"We're just going through that process now on looking at what we prioritise," said Turner.
"You have to look at how much value riders get out of five months in Europe or one campaign, and they're almost similar costs."
Grace's sprint team will be back in New Zealand until May, before heading off to Europe for a series of World Cup events and a training block in Germany.
"We'll be hitting a lot of races in a short period of time and see where that sits with the points," saidGrace.
"We'll try to trickle-feed the racing in with the training over the last half of the season and try and make some progression physically rather than just going and chasing racing allyear."
The endurance team will be based at BikeNZ's set-up in Belgium for much of the European road season, while the women's team, who are going through a rebuilding phase, will be based in New Zealand this year.