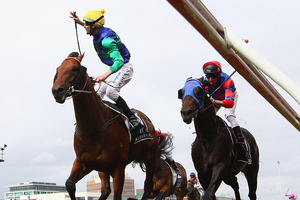 The showdown the Australian fans crave - Pierro against All Too Hard - remains up in the air with the trainers of both colts conceding they are undecided about their immediate race programmes.
Australian Turf Club officials told the Herald Sun that they are hopeful both 3-year-olds meet in the group one A$500,000 ($617,300) Royal Randwick Guineas (1600m) at Warwick Farm on March 16 as the clash would attract extraordinary interest and almost certainly the biggest attendance to the western suburbs racecourse in decades.
However, Gai Waterhouse wants to see how Pierro has come through his taxing first-up win in the Hobartville Stakes at Rosehill last Saturday before determining his next start. John Hawkes also is monitoring All Too Hard's recovery from the setback which ruled the colt out of the Australian Guineas at Flemington on race morning.
Hawkes said All Too Hard, brilliant winner of the Orr Stakes and Futurity Stakes at his first two starts this preparation, has been treated and would need an "easy three or four days" before resuming full training.
"All Too Hard is fine now but this has forced us to change tack," Hawkes said yesterday.
"To be honest, I haven't given much thought to where we go next with him. We will let him recover first and then sit down and work through our options.
"The main priority is the horse's welfare, we will get the horse right and take it from there."
All Too Hard's great rival Pierro announced he was back better than ever with a stunning return in the Hobartville, defying a heavy track surface, a top-class field and a lack of race fitness to score his ninth win from 11 starts.
Waterhouse has prepared many outstanding gallopers during her career including Nothin' Leica Dane, Juggler, Grand Armee, Desert War, Dance Hero, Sebring and More Joyous but paid Pierro the ultimate compliment by declaring she hasn't trained a better racehorse than him.
"I've trained some very good horses over the years but none better than Pierro," Waterhouse said.
"He's such a professional racehorse, a real athlete, and for a colt he has a great attitude to racing."
Waterhouse isn't concerned that Pierro had to slog through very wet conditions to win the Hobartville over 1400m.
"It won't bother him, he's such a tough colt," she continued.
"He takes these things in his stride."
Hawkes watched Pierro's win with interest and conceded the colt's effort was outstanding.
"Pierro's a very good three-year-old," Hawkes said.
"He's got a great will to win - he's a winner."
All Too Hard and Pierro have met four times previously with the honours shared and Hawkes conceded if they were to clash again during the Sydney autumn carnival it would be "great for racing".
Waterhouse was also encouraged by the comeback run of Proisir (third) in the Hobartville but said ideally she would like to avoid another clash with Pierro where possible.
"If we decide to go second-up in the Randwick Guineas, then the 1600m isn't an issue for the big horse [Pierro] and I doubt it will bother Proisir, either," she said.
"But I'm just not sure yet which way I'll go with them.
"I'll let the dust settle over the next week or so, talk to their owners and then decide what races to target."