Trainer confident Adore Me can match her male counterparts in Woodlands Derby.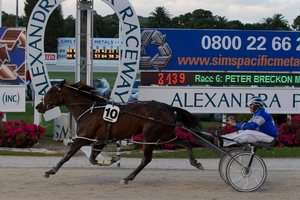 Champion trainer Mark Purdon knows Adore Me has a mountain to climb this Friday - but he is going to give her the chance to climb it.
The unbeaten filly has drawn the outside of the second line in the Woodlands Derby at Alexandra Park in a race that will rival the Auckland Cup the same night.
Adore Me's draw is made worse by the fact many of the big-name colts in the race, Franco Nelson (4), Ohoka Punter (6) and Border Control (1) have drawn to be handy.
So that means if Adore Me is to become the first filly to win the Derby in 38 years she is going to have to cover more ground than the best boys to do so.
But Purdon has not entertained the idea of scratching the filly.
"No, she will be starting, even though the draw does make it harder," he said.
That raises an interesting problem for TAB bookmakers as Adore Me usually starts around $1.20 in her races.
If they make her a short-priced favourite that leaves them with little percentage to play with for horses like Franco Nelson and Ohoka Punter, who are also usually hot favourites in their races.
But the TAB will be reluctant to push Adore Me out too far. Just as interesting will be how punters react to her draw, with there likely to be little between the big three on the tote.
Meanwhile, Hunter Cup winner Mah Sish is to be scratched from the Auckland Cup on Friday.
His trainer Tim Butt says the race was more a second option in case something went wrong in the lead-up to last Sunday's Interdominion final in Sydney.
Nothing did, with Mah Sish a brave second to I'm Themightyquinn, who arrived in Auckland last night for the Cup.
"He has had a long summer so I will give him a little break," said Butt.
"I was going to give him a long spell but I will probably now bring him back to Sydney for the Miracle Mile [April 28]."
That A$750,000 race has become a more juicy target for Kiwi trainers with the likelihood I'm Themightyquinn will miss it, heading for a spell after Friday's Cup.
"It is the same weekend as the Taylor Mile at Alexandra Park so some of the best 4 and 5-year-olds might head there instead.
"So I will probably bring him back to Sydney for a two-race campaign, a lead-up the week before and then the Mile."
Butt is also the majority owner of comeback trotting hero Stig, who cost himself almost certain victory in Sunday's A$200,000 trot by trotting roughly and galloping.
But the good news is the big horse took no harm from the expensive outing. "He actually came through the whole thing really well," said Butt.
"Paul [Nairn, trainer] and I went over him thoroughly this morning and there is no sign of soreness.
"So all we can put it down to is maybe being tied up after the travel or he didn't handle the track.
"But he is well in himself and will head to Melbourne this week, where he might start on Friday night."
Cup week continues today with the most relaxed meeting of the carnival, a twilight fixture at Alexandra Park for the Franklin Trotting Club.
The 11-race card starts at 3.06 and is highlighted by the Country Cup Handicap in which Beaming Jay is chasing a hat-trick.
Huge ask in Derby
* Top filly Adore Me faces a second-line draw in Friday's Woodlands Derby at Alexandra Park.
* No filly has won the Derby since 1975.
* Mah Sish will be scratched from Friday's Auckland Cup.
* Cup week continues with a twilight meeting at Alexandra Park today.