All Blacks and their supporters are treated like royalty in soccer-mad Argentina, writes James Ihaka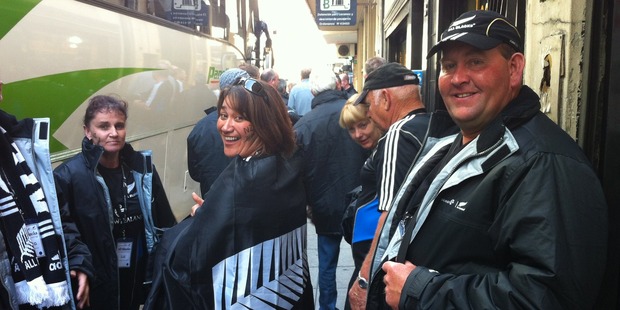 We are heading to Quilmes on the southern fringes of Buenos Aires for an All Blacks training session and on the way, we're the subject of the kind of attention normally afforded to rock stars.
A cavalcade of the city's special armed police force ride in pairs on motorbikes that duck in and out of traffic, sirens blaring, lights flashing, and using large rubber batons they whack on tardy cars that dare to stay in our path. Our balaclava-clad minders carry a small arsenal of machine guns, snub-shaped tear-gas cannons and shotguns. The heavy weaponry emerges from holsters when our entourage ambles past an enormous shantytown adjacent to the upmarket school - enclosed with barbed-wire fencing - where the team will train.
"It's for your protection," says one of the policemen, Jorge, who can't be more than 1.5m tall and tells me he wants a picture with All Black captain Richie McCaw.
"We are not joking," he says.
This is how the All Blacks and their supporters do it in Argentina and, to be fair, many of us don't mind, even if it irks the locals and is an OTT way to save 10 minutes of drive time.
Our eclectic bunch includes comedian Dai Henwood, Olympic champion rower Mahe Drysdale, Dancing with the Stars' Frank Bunce and one of Prince Tui Teka's former guitarists.
It's an exciting time for our mob, many of whom are making their first foray on South American soil for the Rugby Championship that has injected new life into what most were saying was a repetitive and tired Tri-Nations format.
Ask any of this group what they know of our host city and the answers follow a few familiar themes: "Dos cervezas por favor", "leather's cheaper than back at home", "excellent wine, try the malbec", and "good-looking rugby players with mullets".
Some of us have been lucky enough to enjoy the quaint and subtle charms of Colonia in Uruguay, a short ferry ride across the Rio de la Plata. Others have failed tango lessons in the cobbled and beautifully dilapidated San Telmo where gorgeous dancers smile patiently as they endure hopelessly out-of-step gringos from Otorohanga and Opotiki trampling on their delicate feet. There are visits to the vast Recoleta cemetery - a peculiar tourist destination - and few miss the awesome sight of Argentine rugby great Serafin Dengra with his shirt off doing his "Puma haka".
Many walked about the swanky Palermo Soho and had pictures taken with Diego Maradona's lost brother - at least that's what he looked like - in the old Italian hangout of La Boca. There were trips to the Tigres delta.
Buenos Aires, known as the Paris of the South for its wide avenues and colonial, neo-classical and gothic architecture, certainly has its charms. And when it appears as if the whole town has come out to greet us when we arrive in La Plata, a few hours before the All Blacks play the Pumas at Stadio Unico de la Plata, I start to wonder if the locals actually want us to win. Some are waving New Zealand flags, others leave their picnics or crowd verandas to hoist children on to their shoulders - and all are smiling, save the village idiot who does a back-and-forward motion pointing to his crotch.
One of our guides, Eduardo later tells me this is probably due to the fact that we are not soccer supporters, some of whom have scarred the beautiful game in Argentina with an ugly brand of ultra-violence, intimidation and high-level corruption.
"The rugby supporters here are of a different class ... you could say they are more gentlemanly-like to the opposition.
"Futbol, not so. It could end quite differently and not so happily."
A visit to La Bombonera, the home of Boca Juniors in La Boca, where futbol demi-god Maradona has a permanent hospitality suite, gives us an indication of what Eduardo was talking about. There is space for just 3500 visiting fans, who are searched for weapons upon entry and are housed in the wettest, windiest and coldest part of the stadium, well out of earshot of their team. The visitors have to share just one toilet, and their changing room is directly underneath La Doce, or the team's 12th man, their maniacal supporters who make a point of jumping up and down when the opposition checks in below.
"We play the game to win and we will do anything we can to make sure our team does win," our guide Isabella tells us.
I reckon if the Pumas are serious about beating the All Blacks, this is where they should play them.
•James Ihaka went to Argentina courtesy of Air New Zealand.