Welsh winger more than flavour of the moment as Tottenham take charge as a team.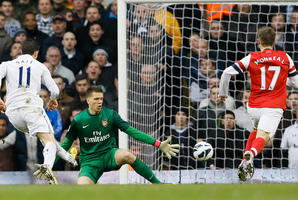 When Arsene Wenger sniffed that Gareth Bale was merely the flavour of the moment it was impossible not to wince. No, he is the wave of somebody's long-term future and his hugely restored coach Andre Villas-Boas can only pray that it continues to be Tottenham's.
On this occasion Bale merely scored his 16th Premier League goal of the season, and 20th in all competitions, but just having him around remained for Spurs a massive gift of nature in their 2-1 win over the old North London enemy.
This was not, it is true, as unqualified as some of his recent eruptions. He didn't fulfil the promise of blowing away Arsenal that was implicit in his murderously clinical opener and in the second half there came the kind of chance which in his current mood of confidence you may have imagined he might convert blindfolded.
Still, no one at White Hart Lane can have been remotely inclined to turn Bale's picture to the wall.
Not with Spurs moving into third place in the table and what seems an increasingly tight lock on another Champions League adventure next season. Not with the supremacy of North London almost certainly secured for the first time in 18 years.
And certainly not with this latest evidence that, quite apart from the astonishing impact of Bale, they are looking stronger, more resolute and more composed than at any time since Harry Redknapp pushed back their horizons with that thrilling sortie into Europe three years ago.
Spurs now occupy a dimension beyond Arsenal and one they are likely to inhabit a lot longer than a moment if Spurs chairman Daniel Levy resists the temptation to exchange Bale for something in excess of £50 million ($91 million).
The Welshman put Arsenal on the back foot with the sweet simplicity of a perfect one-two combination. The splendid Gylfi Sigurdsson must have felt a little like Moses contemplating the parting of the Red Sea when he looked up to an open space at the heart of what was supposed to be Arsenal's defence.
When Scott Parker performed an almost identical favour for Aaron Lennon, Arsenal, given their current circumstances, had every reason to believe that they had just been destroyed. To their great credit - and some passing relief for a Wenger who now appears to spend most of his touchline existence in purgatory - they rejected the idea and resumed their pressure on the Tottenham goal.
What they didn't do, though, was blur the impression that alongside the dramatic progress of Bale they are also benefiting from the emergence of a group of players who are displaying plenty of confidence in their ability to exist comfortably at the top of the game.
Sigurdsson and Mousa Dembele were especially impressive in the crucial business of relieving pressure in midfield and at the back the partnership of Michael Dawson and Jan Vertongen grew steadily in assurance.
"With Cazorla coming in from the left, they outnumbered us in midfield for a while and the goals were our best moments in the first half," man-of-the-match Vertongen said. "Then we said that we had to avoid an early goal in the second and we didn't. We remained very compact, though, and I think we can be pleased."
They can indeed. They looked like a team who had quite a bit more than one Welsh force of nature.
They looked like a team.
- Independent