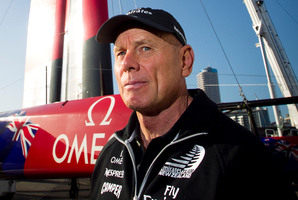 Team New Zealand boss Grant Dalton has blasted rivals Oracle and Artemis for the "hypocrisy" of their stance over the America's Cup World Series regattas.
The Cup defenders and the Swedish challenger of record have both named under-strength teams for next month's World Series regatta in Naples, which will be the last event before the big show starts in July.
With world series events sailed in the smaller, one-design AC45 catamarans, the regattas are considered sideshows to the main event in San Francisco later this year which will be sailed in the super-powered AC72 cats.
Late last year the Herald reported Emirates Team New Zealand planned to boycott two world series events scheduled for New York in June, with Dalton claiming the events were a distraction from their AC72 sailing programme. Dalton indicated he would instead send a youth team to New York to compete under the Team New Zealand banner.
The New York regattas have since been cancelled, but Dalton came under fire from event organisers, who accused the Team New Zealand chief of not supporting the events, which were at the time considered vital to building the profile of the America's Cup in the lead-up to San Francisco.
"Is it just us or does anyone else think it is hypocrisy that neither Artemis nor Oracle is sending their A-team to Naples?" Dalton wrote in a blog on the team's website.
"These are teams that said Emirates Team New Zealand wouldn't support the 'future'.
"To be clear we simply didn't support linking the AC brand (shackling a future Trustee if in fact that could even be done) to a class that may or may not exist in the future (read cost)."
With the cost of competing in the America's Cup rising exponentially in the new multihull era, the event is now beyond the reach of most teams and Oracle chief executive Russell Coutts has indicated the future of the event may lie in the smaller AC45 class.
In his blog Dalton also predicted Oracle and Artemis may try lobby for permission to sail their AC72s when the Naples regatta is on. The Protocol does not allow teams to sail their AC72s over the duration of the World Series events without prior approval.
But with the Artemis boat returning to the shed last week for further modifications after practice racing against Oracle revealed the Swedish team were woefully off the place, they have lost further valuable sailing time. If America's Cup race management don't grant approval for Artemis to sail their AC72 during the Naples regatta, there is talk Paul Cayard's team may opt to cop the US$100,000 fine, rather than be shorebound for another week.