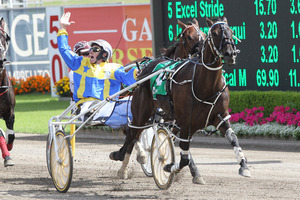 Driver Gary Hall admits the belief that won I'm Themightyquinn yesterday's Interdominion Final had him terrified just a minute earlier.
Hall produced the drive of his life to get the Kiwi-bred but Perth-trained pacer home for his third Interdominion title.
They came from last to dive-bomb Hunter Cup winner Mah Sish, with Excel Stride third ahead of a slightly disappointing Terror To Love.
While I'm Themightyquinn coming from last with electrifying bursts is nothing new, it has been rare in Australia's eastern states, where he had struggled to show his best before yesterday's epic win.
That has usually been because Hall has been foxed into moving early from good barrier draws, blunting I'm Themightyquinn's natural brilliance.
So Hall decided before yesterday's race he was going to revert to being the hunter rather than the hunted and gave I'm Themightyquinn an eternity to find his feet. It was an uncomfortable experience.
"I wanted to believe in the horse and his sprint and let him show people over here how good he is when allowed to sprint," said Hall.
"With a mile to go when I was last with 13 horses in front of me I wondered what the hell was I thinking.
"I seemed to be a long way from the leaders but then things started to go a bit better. What he did after that was unbelievable even for him."
I'm Themightyquinn got the perfect cart into the race on the back of Mach Alert, aided by some conservative drives by those in the running line who seemed reluctant to pull out at all in the last lap.
That saw him carted right up to the leaders and he simply blew them away with his sizzling leg speed.
While nobody has ever doubted I'm Themightyquinn's gifts, he has been seen as a one-tricky pony, especially in the east of Australia.
But it is a trick that is very hard to repel when Quinny can relax and then follow the right horse. It just requires a little bit of confidence, a ton of patience and years of belief.
Bred and reared in Southland, I'm Themightyquinn was sold to clients of trainer Gary Hall snr as a late 3-year-old and he has been so dominant in his home state and during an Auckland visit two years ago that he is now homing in on becoming Australasia's richest pacer ever.
He has now won more than A$4 million in stakes and is chasing down the incomparable Blacks A Fake for the title of richest.
His next stop on that path will be on Friday at Alexandra Park, where he makes a trip for the Auckland Cup, a race he won two years ago on the way to winning his first Inter via a drug inquiry.
"I am looking forward to getting him back to Auckland because he loved it there last time," said Hall.
"And while he has got barrier eight for the Cup, as we just saw, draws often don't matter to him."
While beaten, Mah Sish was brave after a smart early drive from Anthony Butt and his second capped a remarkable summer in which he has gone from pretender to big race player.
Excel Stride gave the local fans something to cheer about with a fighting third while it was hard to make excuses for any of those back in the field. After all, I'm Themightyquinn gave them all a start and a beating on a track where few horses made ground all day.