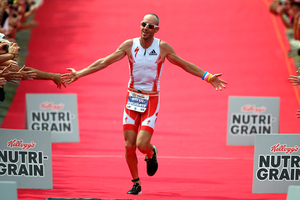 The lava fields of Kona in Hawaii have dashed the hopes of many New Zealand triathletes but Bevan Docherty, fresh from a stunning Ironman debut in Taupo, can't wait to test himself at the spiritual home of the event.
"I'm excited about Kona to be honest," said Docherty of the World Championships in October. "I still have a lot of work to do but it's [victory in Taupo] a step in the right direction. To be honest, I've been holding back. I know it's a long year ahead of me and I didn't want to play all of my cards at once going into this event."
Docherty didn't hold back yesterday, however. The two-time Olympic triathlon medallist but long-distance rookie scorched to a course record in perfect conditions, leading home Marko Albert of Estonia and 10-time winner Cameron Brown of New Zealand.
Although apprehensive and entering the unknown going into the Kellogg's Nutri-Grain sponsored event, Docherty stayed glued to renowned swimmer and cyclist Albert until the final 40km of the 180km cycle leg and then increased his lead on the 42.2km run, enduring the pain of the final 10km to come home in 8hr 15min 35sec, almost three minutes quicker than Brown's time set in 2009.
It was a popular victory for Docherty, born and raised in Taupo. He hugged his mother, Irene, at the finish line before revealing that he had to walk near the end of the run as the pace took its toll.
"I don't think I've ever dug that deep before. I hit the wall at 10km to go. It was painful."
The unique conditions in Kona will present Docherty with new challenges - the heat and wind on the cycle and run legs sap the energy of even the best athletes and the field is always high quality.
Brown, who before Saturday was unbeaten over the full distance at Taupo, has never won at Kona, although he has been second twice, in 2001 and 2005 and was third in 2002 and 2003. Last year he didn't make the start line due to an allergic reaction to volcanic gases and a year earlier failed to finish.
While time is running out for 40-year-old Brown, Docherty's stunning debut and fast legs from his days racing the Olympic distance ITU circuit suggest there could be a changing of the guard.
"I've still got many years left in my career," said Docherty, who turns 36 this month. "The ultimate goal is to do well in Hawaii. I've still got a lot of work to do but it's certainly a good start to my long-distance career."
Kellogg's Nutri-Grain Ironman New Zealand results (3.8km swim 180km bike 42.2km run)
Elite men: Bevan Docherty (NZL) 8:15:35, 1; Marko Albert (Estonia) 8:25:30, 2; Cameron Brown (NZL) 8:34:28, 3.
Elite women: Meredith Kessler (USA) 9:17:10, 1; Gina Crawford (NZL) 9:20:54, 2; Candice Hammond (NZL) 9:35:52, 3.
- APNZ