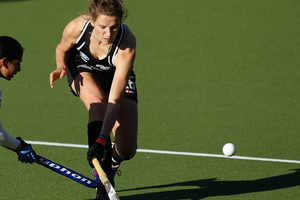 A batch of experienced players had been warned beforehand they were taking a risk by opting for a break from playing for the New Zealand women's hockey side, and that has been brought into sharp relief after the Black Sticks' impressive showing in Argentina last week.
Argentina won the fifth and final test 1-0 to take the series 2-1 - there were two draws - but a young and inexperienced New Zealand side showed they were the equal of a full-strength Argentina who won silver at last Olympic Games. The Black Sticks, who are ranked third in the world after narrowly missing out on a medal in London, had also never beaten Argentina in South America let alone win a series.
In the end, they probably could and should have won the final match and, with it, the series after dominating for long periods on Saturday but couldn't find a way through resolute Argentina goalkeeper Florencia Mutio. The Black Sticks had 11 shots to Argentina's four and Katie Glynn hit the crossbar in the first half.
A handful of experienced players including captain Kayla Sharland, Krystal Forgesson, Emily Naylor and goalkeeper Bianca Russell opted for a break after the London Olympics but Forgesson, Naylor and Russell all returned for the Argentina series.
Sharland and Charlotte Harrison, who played against India but made herself unavailable for Argentina to travel and play in Belgium, come back into consideration for next month's two four nations tournament against Argentina (ranked No 2), Korea (8) and the US (10) in Whangarei, Hamilton and Tauranga but coach Mark Hager said the current squad had the inside running.
One possible solution to ensure all players get a chance is for Hager to name different squads for the two four nations tournaments, in the same way he approached the four nations tournament last year.
"It was a risk for some players to take a break," Hager said. "You always have to be careful as a player. There are times you need a break but there are also times when you take that break and a young kid comes in and performs really well.
"We will review this series when we go back and name our group for the four nations in the next couple of weeks. We have a couple of senior players who weren't here but will be available for selection but the kids who played Argentina will hold a bit of an advantage when it comes to selection because they performed really well against the [Olympic] silver medallists."
A number of those were players who had less than 20 international caps, including Pippa Hayward, Rose Keddell, Cassandra Reid and Bridget Blackwood as well as 19-year-old midfielder Julia King, who narrowly missed out on the Olympic squad.
The average age of the side is 22 and Hager is trying to implement a different game plan based more on pressing higher and taking on defenders one-on-one and an accent on mobile and athletic players.
"We have always wanted to play an attacking style of hockey and believe a lot of the young ones we have picked have the athleticism and ability to play the game we want to play now," Hager said. "If we can progress that and keep it going, I think it will help in the future.
"But it's consistency. We don't want to be one-hit wonders if we can help it and want to play well in the four nations. That's the unanswered question at the moment."
- APNZ