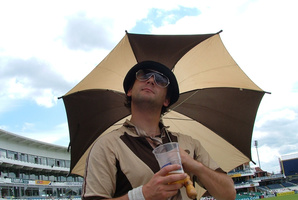 The serious business of test cricket between New Zealand and England, starting Wednesday, will have a light-hearted curtain-raiser - the Barmy Army versus the Beige Brigade for The Rashes.
England's Barmy Army supporters' group is scheduled to play its New Zealand counterpart in a three-match Twenty20 series the day before the start of each test. It is being marketed as The Rashes. The teams will play the Last Man Stands format where all 11 wickets have to be taken. A few cricket tragics are still being sought to don the original New Zealand one-day colours in Dunedin. A suitable urn is yet to be designed as a prize - but a crystal decanter full of soothing ointment has been touted as a possibility.
Beige Brigade founder Mike Lane says the Barmy Army caned them in a drinking race during the last tour of England at a Hooters restaurant in Nottingham. This is an opportunity for revenge.
"We have a couple of secret weapons which we're holding back for their arrival. The first is our 120kg ginger-headed, possum wrangler from Winton, Jason Gerken.
His physical presence will be intimidating when he leads the Dunedin XI out at the North East Valley club. If all else fails, there are plans to sneak Daryl Tuffey into our XI for the Auckland match at The Domain. The big fella should still be useful rolling the arm over."
On a more sombre note, Lane hopes the Barmy Army can enjoy the series after the problems between patrons and security at last weekend's Eden Park one-dayer. A full member of their touring party pays a £4595 ($8410) fee to make a 26-day journey which includes accommodation, flights and tickets.
"I hope we set a better example of a decent occasion in the tests," Lane says. "As soon as security clamp down mercilessly, it has a snowballing, rebellion-type effect. It then becomes a challenge as to whether guys can get booted put for tossing a bottle cap in the air or simply standing up and dancing.
"You can't treat a cricket crowd like a rugby crowd. Eight hours or thereabouts is a long time to be at a game. People have to find fun ways to entertain themselves. In my experience, crowds are largely self-policing. I remember there was a streaker the last time we were in Nottingham. He did a full lap of the ground and got cheered.
"Then he went for a second lap and the crowd turned on him before his arrest."