It's rugby league time this week, as three of the four football codes will be in action. Michael Burgess looks at 10 things he'd like to see from the NRL in 2013.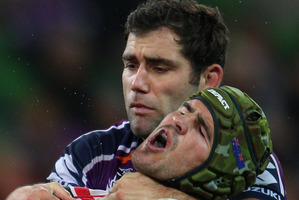 1. Warriors hit their potential

Think of the late season runs in 2008, 2010 and 2011 and memorable finals matches against the Storm (Manu Vatuvei's try), Roosters (Ruben Wiki's hit), Tigers (Krisnan Inu's grab) and Storm (Shaun Johnson's double fake). We can't expect the Warriors to be at their best every week but being somewhere close to their best most of the time will satisfy the majority of the club's fans.
2. Voice training for sideline commentators
Whether they consult Eddie McGuire, Nicole Kidman, Barry Humphries or even the '12th Man' Billy Birmingham, can someone please arrange basic voice training and elocution lessons for the plethora of retired players used as sideline experts for Channel 9 or Fox Sports. Listening to men such as Brad Fittler, Brett Kimmorley, Mark Gasnier and Braith Anasta was painful at times last year, unless you were tuning in for comedy value.
3. Fewer tries from kicks
In the 1980s, Warren Ryan's Canterbury teams made the attacking bomb an art form, consistently trapping players in goal. It eventually led to a rule change - and it might be time for another. Pinpoint kicks take skill but the balance has tipped a little too far, especially with aimless midfield bombs (a la rugby) and kicks to the wing (which resembles AFL). Maybe it is time for tries from kicks (or bombs) to be worth only three points? That would be radical but something to encourage more tries scored 'through the hands' in 2013 would be most welcome.
4. Calm the Storm
For all their amazing discipline, ability and structure, if the referees applied the letter of the law the Storm could be penalised on every tackle, for either ruck offences or camping metres offside in the opposition backline. That would be absurd but the Storm get away with more than their fair share and it's not for the good of the game. Call it the Richie McCaw effect; many times the whistle should go, before the realisation sinks in - that's Cameron Smith, Australian captain, Queensland hero, league legend and all-round great guy; we can't penalise him. Actually you can. Please do. While Billy Slater, Cooper Cronk et al provide plenty of beautiful moments, the Melbourne side often win by strangulation ... it ain't pretty.
5. More protection for kickers
It's still a plague on the game. It doesn't matter who you support, there is little joy in watching Shaun Johnson, Cronk, Slater or Johnathan Thurston getting smashed well after kicking the ball and often while they are off-balance; especially when they are clearing from well inside their own half and are a sitting duck. In theory, late shoulder charges on kickers are illegal in the NRL; in practice they are rarely penalised, with action usually only forthcoming after a series of offences. Something needs to change. The players doing the kicking are often the superstars of the game who attract people through the turnstiles and to television screens. Such players have earned the right to some protection and the NRL needs to look after its stars.
6. Clarity at the ruck
The two referees have helped but there is still unnecessary confusion at the ruck. There isn't much more frustrating for a fan than seeing a player monstered by five defenders, the ball suddenly flying out 20 metres and then the official ruling a knock on or loose carry. Huh? Video replays aren't always conclusive either but hopefully new referees boss Daniel Anderson can come up with a solution that leads to fewer match-turning moments from innocuous incidents at the ruck.
7. Turn off refs' microphones
It was an idea floated by Matt Elliott last year and it made sense. The Warriors coach wants referees' microphones to be turned off for large parts of the game, only tuning in for decisions, like the NFL. This allows referees to relax (and probably make better decisions) without worrying about every word spoken being picked up by hundreds of thousands of viewers in their lounge rooms. A side effect is that we wouldn't be subjected to the endless stream of banter and nicknames from referees to players.
8. Stop time wasting
As soon as the ball is forced dead (requiring a drop-out) the clock should be stopped. Teams can waste up to 45 seconds dallying in their in goal before taking a kick, which is unnecessary, especially at the back end of the game.
9. Lose golden point
This may be a fanciful wish, as the television networks love the artificial drama of extra time, but golden point still seems pointless. Some of the most memorable games in recent times were draws and the sight of two exhausted teams fighting with field goals doesn't often do justice to the 80 minute contest that has preceded. Perhaps a series of Warriors' golden point wins over some of the uber-fashionable Sydney clubs (Eels, Rabbitohs, Roosters ...) might get the NRL to change its tune.
10. Fisiiahi finds his feet
Glen Fisiiahi is blessed with unbelievable pace and incredible elusiveness but the 22-year-old has yet to transfer his potential to the NRL. If he can convince the coaching staff - and himself - that he can handle the physical demands of first grade he could add a new dimension to the Warriors back play. It would also be great to see Locke, given his natural talent, have the same influence on his team as number ones like Billy Slater, Ben Barba and Brett Stewart.

Play Virtual & Fantasy League - starts Thursday 7 March
Test your tipping skills with Virtual or create your dream team with Fantasy NRL and be in to win a slice of over $7,000 in prizes.
Be part of the game and sign up now.