A flood of CVs is received as a four-man committee start the search for Herbert's successor.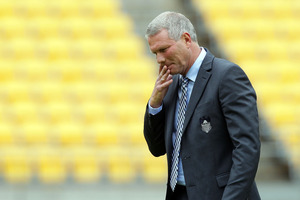 Former All White Noah Hickey will be one of the key figures tasked with finding a replacement for Ricki Herbert as Phoenix coach.
The search for his successor has begun in earnest and the club has already been flooded with CVs. The job will be advertised in the coming weeks and the Phoenix will undertake a global search, with the selection process overseen by a four-person appointment committee.
It consists of Hickey, Team Wellington chairman Mark Chote and two other members of the board, though Gareth Morgan will apparently not be involved.
While Hickey has been a board member since Welnix was formed, his inclusion might raise some eyebrows, as the recently retired 34-year-old retains close ties with several members of the Phoenix playing group.
This group will lean heavily on two expert consultants - one based in Australia and one in England with close ties to a Premier League club - who will offer background knowledge of the applicants.
The process will be thorough but will need to be timely as decisions need to be made about a large number of current players who are coming off contract.
From a list of around 20 candidates, it is expected the club will aim for a shortlist of between three and five people before the final rounds of interviews.
Meanwhile, Herbert's ongoing role (technical football adviser to the board) looks likely to have several different strands. It is believed he will be charged with focusing on strategic issues around football operations at the club as well as the ongoing development and structure of the Phoenix academy, which will double in size next season.
The Phoenix are also keen to take advantage of Herbert's vast network across the football world, garnered throughout his managerial career. Herbert has a huge base of contacts, ranging from agents, managers, players and within Fifa and will act as a conduit. However, the former manager won't be involved with the first team squad at the club.
The first seeds of doubt over Herbert came in early December, just over one third of the way through this season. While the results in 2013 have been damaging - just one win and heavy losses to Sydney and Central Coast - the first sense of alarm came in the home match against Sydney FC in round 10. Heading into the Sunday afternoon match, the Phoenix were fifth, coming off a home victory over the Western Sydney Wanderers, a creditable point in Perth and a win in Newcastle.
This was a time to consolidate, especially as Sydney were bottom of the table and new manager Frank Farina had been in the job only days after the resignation of Ian Crook. Instead, the Phoenix gave a limp display, with a Jeremy Brockie penalty in injury time just a consolation in a dismal 2-1 defeat.
That match came well before the infamous public discussion of playing styles after Morgan's comments on 'total football' - but was of concern to club officials.
"They looked as if they thought they just needed to turn up to win," said one source. "There was not a lot of effort or fight on the field and it was noticed by some people fairly high up."
It was the first sign that all was not well and issues that hadn't been apparent before now were.
From then on, the pressure ramped up. There had to be a turnaround but it never really came. The Phoenix claimed just nine points from the next 12 games. Players also were feeling the heat in an environment of growing unease and voiced their concerns.
Herbert was under "multiple pressures" in what was described as a "groundswell of noise" and he couldn't find an answer.
At the beginning of the season, the coach had told people within and outside the club that he felt he finally had the right squad in place but, as the season went on, there were only diminishing returns.
Still, the club hoped for a change in fortunes. After signing Carlos Hernandez, the Herald on Sunday understands that there was an attempt to bring the Costa Rican international to New Zealand immediately for the last 10 rounds of the season but his Indian club refused to grant an early release.
It seems that what took place in last Monday's meeting was a genuine resignation rather than a sugar-coated dismissal but it is also telling that the club made no effort to persuade Herbert to change his mind.
His time was up.