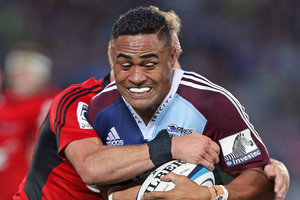 The Blues region is the country's most populous but has a poor recent record of producing test players.
It's early in Sir John Kirwan's reign to be thinking of winning titles but he and the coaching team at the Blues can achieve one of their other goals this year by producing increased numbers of All Blacks.
The Blues provided only four of the 30 players who toured Europe with the All Blacks last year and Kirwan will be keen to see that number rise in his tenure. No one is talking set targets but having seven by the end of this year and nine by the end of 2014 would seem more reflective of the region's player base.
The biggest region in the country has an underwhelming recent record of providing test players - there are more than 30,000 registered players in the region yet only 11 All Blacks have come out of the Blues since 2005. The volume is relatively low in comparison with the other franchises - Crusaders 16, Chiefs 15, Hurricanes 14, Highlanders nine - but perhaps more significantly, the region has struggled to produce legacy players.
Although Anthony Boric, John Afoa and Isaia Toeava were squad members at the last World Cup, Jerome Kaino is, really, the only world-class player to come out of the Blues in the last eight years.
Kirwan has a chance to fix this and there are three young men in his current squad who have All Black written all over them: Steven Luatua, Francis Saili and Charles Piutau.
That's not unusual, though, for the Blues to have young players with ample promise. Ben Atiga, Luke McAlister, Anthony Tuitavake and Angus Macdonald all looked similarly well-equipped to become good, established test players but never did. Plenty of other Blues have shown early promise only to fizzle. There has always been talent in the region, there just hasn't always been the right environment at the Blues for individuals to fulfil their potential.
Can Kirwan be the first Blues coach in an age to produce significant numbers of All Blacks - and good ones at that? Luatua, Piutau and Saili will provide plenty of clues.
Luatua has all the physical attributes to be a gainline-owning test No6. Saili has electric acceleration, vision and a bit of presence that belies his relative lack of bulk while Piutau comes with a running and kicking game - something so few promising fullbacks can claim.
All three have seen their 2011 New Zealand under-20 team-mates Sam Cane, Brodie Retallick and Beauden Barrett graduate to the All Blacks. Kirwan has a pretty good handle on how all three, plus the likes of Frank Halai and Rene Ranger, can push their claims.
"I played in that environment [All Blacks] for 10 years so I have a pretty good idea about what it takes to stay there," he says. "The thing that is often overlooked or not really talked about is consistency of performance. That's the hard part and where these guys have to get to.
"My job is to make sure that we are playing rugby that engages the players and the fans and that we create a culture where young players are able to express themselves."
The input of Sir Graham Henry and assistant coach Mick Byrne will also be critical. Henry coached the All Blacks to a World Cup, while Byrne remains a specialist skills coach in the current set-up. It's apparent that expectations within the Blues in regard to training have pushed closer to those within the national side.
The arrival of Wayne Smith at the Chiefs last year saw their training standards and attention to detail lift. His influence was significant in helping Cane, Retallick and Tawera Kerr-Barlow become All Blacks.
New All Blacks would not in itself be justification of Kirwan's methods and influence but it would indicate strongly that he's connecting with players and building a culture that allows promising talent to develop into something more. Logic would also suggest that if the likes of Luatua, Piutau and Saili continue to play to their potential each week, the Blues will be competitive.
Underachievers since 2003, the Blues have won no titles and have had few memorable and enduring players. Fixing the former may be a step too far in 2013, even after Friday's triumph over the Crusaders, but the latter is a realistic goal.