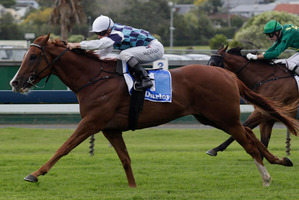 The Derby is always a wonderful betting opportunity. Yes, it's a massive leap up Petty Cury is making in the $100,000 Bonus Quaddie Darley Plate at Ellerslie today, but don't underestimate her.
This is a sprinting mare going places.
The opposition she has beaten three straight in as many starts this preparation are lengths behind what she faces today.
But then she's won by lengths as well.
Petty Cury drops from 58kg to 53kg and that will be a big factor. She comes out of the second half of the field in terms of barrier draws, but she can clear the gates quickly and will be on the pace after 100m.
She has the likes of Durham Town, Eight Schillings, The Hombre and Undisclosed to beat, but she will give it a great shot. Eight Schillings is the improver.
The Derby is always a wonderful betting opportunity. Habibi (No16, R9) and Castlzeberg (No2) are likely to fight out the finish, with Fix's (No15) stickability coming into the picture.
Gary Harding and his team were game enough to pay the $21,000 late entry fee and there will be plenty who hope that is rewarded, but Habibi and Castlzeberg are big hurdles.
Derbies are generally won by horses that are getting home strongly in lead-ups and Habibi and Castlzeberg were both huge at the end of the Avondale Guineas from different perspectives.
Castlzeberg from in front where he was sprinted at quickly and late, but fought back strongly and Habibi's stout finish from an awkward back position was enough to assure her of Derby favouritism. She also hadn't raced for five weeks and will be a fitter horse this time. So will Castlzeberg. Anchor all your multiple bets around the pair.
Roughies often sneak into the places in Derbies - Kidwelly (No18) is no mean hope, Weissmuller (No5) would have appreciated rain, but may not be hopeless on a track that could have some yield and Choice Bro (No1) disappointed slightly in the Avondale Guineas, but has genuine class.
Single Act (No2, R4) went down to Choice Bro in the Maraka Mile last start, but looked good doing it. He made ground extremely well from a fair way back. He is bred from a Zabeel mare and should still be improving. Ewenight (No4) jumps from 1400m to 1600m and that is likely to suit.
Another who should suit the step up to 1600m is Pussy O'Reilly (No2, R5), who is looking better and better. She has drawn awkwardly, but tends to get back anyway and it may not end up as bad as it looks on paper. She can really finish off her races. Carlotta (No3) is one of the north's most underrated mares. She has drawn the right gate to get a suck up behind the leaders and if the gaps appear at the right time, watch out. Tyne Cot (No7) has looked a topliner in the making in winning three of his five starts. He can win for sure, but against him is that he has not raced left-handed and appears to be a horse who still has a fair bit to learn. Those horses often get tripped up in their first visit to Ellerslie. He's good though.
Lok'N'Kay (No2, R6) deserves to be favourite after two very good thirds from as many starts this campaign. From an inside gate her chances are excellent. Mangaroa Miss (No3) went a shocker last start after some very good form and probably deserves another chance, while Sand'ior (No9) is likely to be a quick improver.
Rhythm Devine (No4, R8) is going to appreciate the drop in class from the Avondale Cup to a R75 race, particularly with 54.5kg on her back. She is underrated on her day and looks right in this race. Bellazeel (No12) is close to another victory and California (No2) missed by the width of a matchbox in coming from the back here last start. Tough race.
Even tougher is the last, R10. Pinzaara (No8) is probably no champ but, boy she has a ticker. In her last two starts she has gone down narrowly to Alvesta and Pussy O'Reilly, both of whom would start favourite in this race. She will give another fighting display. Moneytree (No7) has had a short break and should appreciate being a shade on the fresh side.
•At Hastings today we are about to see how unlucky High Fashion (No2, R8) was last start against winner Lucky Country (No1). And it's important, this time it is the $75,000 Bruce Perry Bloodstock Lowland Stakes.
High Fashion looked a shade stiff, but there was an air of authority about the other filly. Interesting contest this time.