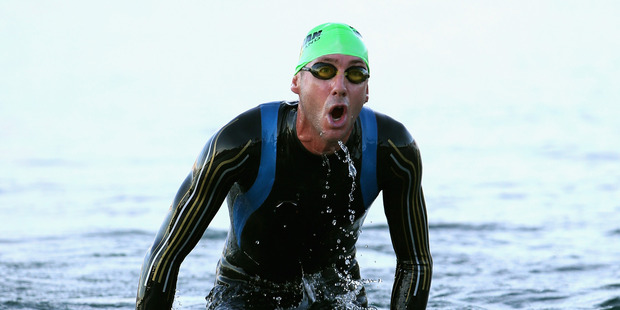 As a long-distance race debut it was nothing short of spectacular, but Bevan Docherty admits he almost made a rookie's mistake during his Ironman New Zealand victory yesterday.
Pacing was always going to be an issue for the Olympic distance specialist. Having quit the ITU series last year, the two-time Olympic medallist is an Ironman novice, which he freely admitted, and although he stormed to a course record in Taupo, Docherty was forced to walk for a time on the last lap of the 42km run after going hard too early.
In a race run in hot and still conditions, he said his legs felt like they were going to cramp at any time and it was all that he could do to take some Coca-Cola on board and stretch his aching limbs until he could run again.
Run he did, scorching home in 8hrs 15mins 35secs, easily beating the previous record of 8:18.05 which Cameron Brown set in 2009.
Estonian Marko Albert, with whom Docherty stuck for the 3.8km swim and all but the last 40km of the 180km bike leg, was second in 8:25.30. New Zealand Cameron Brown, the 10-time champion, was third in 8:34.28. It was extremely dominant display from the No5 seed in the Kellogg's Nutri-Grain sponsored event, but he revealed it wasn't as straightforward as it appeared.
"I went into a deep, dark place out there,'' he said. "With about 10km to go I actually walked. I had to stretch it out, suffered for 3km, got some Coke in me and got some feeling back and started to feel somewhat normal. I was a little bit worried there for a bit but I had a big enough lead and with 5km to go I was able to grit my teeth and put my poker face on and guts it home.''
With 5km remaining, he had to get home in under 23 minutes in order to beat the course record and he did it in style.
The 35-year-old, born and bred in Taupo, got a fantastic reception from the crowd. He hugged his mother Irene on the finish line and then ran back down the finishing chute the wrong way, high-fiving the supporters lining the fence.
He said he realised the course record was on only about 2km from the finish. ``It didn't really matter at the stage. I was just digging deep. It was just more of a case of finishing. The body was starting to shut down pretty quickly.''
Docherty said in retrospect not knowing what he was in for may have helped.
"I'd like to think I could go a little bit quicker, dig a little bit deeper, but who knows, maybe I just got the combination right ... I didn't realise I would dominate so much but the race panned out perfectly.
"That unknown may have been a good thing. If I had known how hard it was going to be, maybe I wouldn't have stuck on Marko's feet or gone with 40km to go [on the bike]. Probably that stupidity was a good thing and why I dug so deep today.''
A disappointed Brown said: "Bevan showed his class today. He had a fantastic race. I felt buggered all day. Bevan kept putting minutes into me on the bike, it was eight, nine 10, 11 [minutes]; I just couldn't do anything.''
American Meredith Kessler, who swam superbly and was fourth overall out of the water, was on target for the women's course record but finished almost three minutes outside it to win in 9:17.10, with Kiwi Gina Crawford second in 9:20.54.
Crawford was up to nine minutes behind Kessler but rallied at the end. She said it was a difficult day.
- APNZ