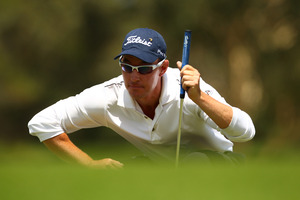 Breaking off a 16-year relationship is hard to do but it's worked in Gareth Paddison's favour this week.
The Lower Hutt left-hander has been in fine form during the first two rounds at the NZ PGA Championship at The Hills in Arrowtown, near Queenstown and held a share of fourth place at the mid-way stage of the tournament last night.
Paddison fired a sizzling six-under 66 in his second round yesterday and a change of club has been the catalyst to pick up a string of birdies during the first two days.
The world No 454 has been specifically ruthless on the par fives and has birdied the first and 17th twice this week, while he eagled the 13th on Thursday.
"I've changed the three wood that I've used for 16 years - an old TaylorMade mid-size to a new Titleist 17 degree three wood so it's a bit weaker but it's easier to hit off the deck. A couple of times I've used that into 17 which has treated me quite nicely and hit four iron into the 13th. But I hit the four wood into the 13th today, hit it on the green and unfortunately three-putted but got away with a par, I guess, so it wasn't too bad,'' Paddison, 32, said after his round.
"I've wanted to have a slightly weaker three wood for a while now and they had a 17 degree head for me to try and matched the shaft up. It went pretty well on the range and I got a practice round on the Wednesday with it and it went pretty good there. I don't hit the ball overly high so it's a lot easier to hit off the deck. When you have two par-fives, 17 and 13, it makes it a damn site easier to hit that just out of the rough or into 17 where you can get a little bit more height because my three wood just went too low and strong. I'll probably eventually go back to my old one but it's good for this week because you're hitting the par fives in two and you've got that extra bit of height in the bag which is good.''
Paddison and two other players - Michael Long and Rohan Blizard - are part of the logjam in second place at nine-under the card and trail co-leaders Scott Strange, Michael Hendry and Aaron Townsend by one stroke.
Paddison entered this week's tournament having previously struggled with the greens at Sir Michael Hill's private course but he's started to pick up the lines better during the past two days.
"This week has been pretty decent. I didn't hole that many yesterday which I was disappointed with. Today I played the par fives really well and holed a couple of putts and then holed a really decent putt on number six, basically from the top tier to the bottom tier. That's been my biggest putt of the week which is quite cool. Me and my caddie Mike have definitely got a better feel for the greens I think due to just drawing lines in the yardage book, where the greens are generally going to break. They're just so tricky. It's very difficult to convince yourself that you have to hit a 20-footer on the left edge because it could move left or right. Unless you've drawn a line that you can be convinced by then it's incredibly difficult to find which way they're going because there are a lot of straight putts out there.''
The tournament moves to the pro-am format during the weekend where two professionals play with two amateurs for the final two rounds.
- APNZ