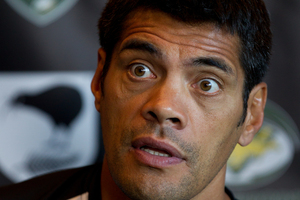 A bouncer, delivered with an oval-shaped ball, came New Zealand Cricket's way yesterday.
Kiwis coach Stephen Kearney confirmed he had taken the captaincy off the mercurial Benji Marshall in World Cup year and handed it to Warriors captain Simon Mannering.
It is the highest-profile New Zealand sporting captaincy change since Ross Taylor was told his services were no longer required just before a test in Sri Lanka in November.
The fallout which followed for NZC was calamitous. There were claims and counter-claims which pointed to at least one person being less than economical with the truth of the events on the serendipitous island. It left the national body's stocks with its public at one of its lowest points.
Kearney's handling of a difficult situation was significantly different. From the start he was up front. There was no obfuscation..
He had decided a different leader was needed to get the best out of the Kiwis. So he went to Sydney and sat down with Marshall. He had been skipper since 2009, led the Kiwis to the Four Nations title a year later and is a champion player.
But the Kiwis have won one of their last six internationals, and lost four straight to the Kangaroos. Time for a change.
"For me there was no way I was going to ask Simon if he wanted to be captain without speaking to Benji first," Kearney said.
"I was up front with Benji right through the whole process."
It was by all accounts a crunchy conversation. Marshall fought his corner, as he was fully entitled to do.
But Kearney's mind was made up. To maximise Marshall's skills, his load needed to be lightened. In fairness, Marshall's form on the biggest occasions in the black jumper has been, by his standards, moderate of late.
The New Zealand Rugby League's high performance manager Tony Kemp admitted one of the main concerns was any hint of a comparison with the debacle involving Taylor and the New Zealand coach Mike Hesson.
The perception of a similar situation developing had been "a major concern", Kemp said. Hence Kearney's insistence on being clear from the outset.
"There were no shenanigans going on there," Kearney added. It was a damning observation.
Just how long the whiff of unpleasantness will surround NZC over the captaincy affair remains to be seen. They'd have hoped it would dissipate quickly. Got some bad news on that front, fellas.
There is one way the public, especially those who remain firmly in the Taylor camp, will move on, and that is results. Two wins in six limited-overs internationals was an average return. It could have been better. That's one of the reasons the three tests starting in Dunedin next Wednesday are so important.
Hesson had the right to change his captain. Brendon McCullum was his preference.
The handling, however, was poor, and is the issue which perhaps will stick with Hesson however long he has the job.
He, and by extension NZC, got it badly wrong; Kearney appears to have played his cards just right.