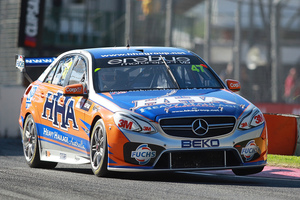 For the first time in more than a decade the V8 Supercars' championship is morphing into something new. This weekend's opening round of the series in Adelaide for the Clipsal 500 will witness not only 28 new cars on the grid, but also two new manufacturers.
This year every team will be wheeling out their Car of the Future, which has a common chassis and a number of control parts, and as such it will be the most level playing field the category has seen in many years.
There will be a few teams like Triple Eight, Ford Performance Racing and the Holden Racing Team that may have had the financial muscle to be a little ahead of the curve.
However, this year is the best opportunity for some of the newer, less well-funded teams to steal a march on the perceived big boys.
What makes it even more interesting is the championship has four New Zealand drivers in qualifying today, who for the most part, are with tight-knit, well-organised smaller teams - which is no bad thing.
Development Series and New Zealand V8 SuperTourers champion Scott McLaughlin is now a fully-fledged main game driver with Gary Rodgers Motorsport, and has enough previous form (sixth at the Bathurst 1000) to rattle a few cages.
"I'm with a good team who have helped develop a lot of good drivers," said McLaughlin. "If I can get a top 15 finish I'll be very happy but the plan is to learn and not do anything silly. It's a long season and I'll just go out there and do the best I can."
Former Stone Brothers Racing hot shot Shane van Gisbergen has, after a couple of months off, decided he's got his mojo back.
A proven race winner, van Gisbergen has signed on with relative newcomers Tekno Autosport, alongside Jonathon Webb, to continue his march towards a championship.
"After the break I felt good and when Tekno started suggesting we go back racing in V8 Supercars I thought it would be a good idea," said van Gisbergen.
"It's a great team and I like the feel in the workshop and they have good cars built by Triple Eight so we should go pretty well."
At one stage towards the end of last year it looked like New Zealand would only have one confirmed driver (Fabian Coulthard) in the championship with the departure of van Gisbergen and Greg Murphy not having a fulltime drive.
Coulthard's move to Brad Jones Racing has been inspired and last year he showed some great form. This year he's keen to kick on and challenge for podium finishes.
"We did quite well here last year and I made the top 10 shootout," Coulthard said. "Everyone on the grid has new cars and it's been so busy getting everything ready for this weekend that it'll be great to go racing."
A late edition to the series is former A1GP and successful Porsche driver Jonny Reid who signed off a last minute deal to race this year with Dick Johnson Racing. Reid will be on the back foot as he's not driven the new car before.
"We're not going to be as well prepared as a lot of the other teams but I'm just pleased to be here," Reid said.
"I've been working on getting a V8SC drive for a few years now and it's worked out. I'll give it everything I've got."
The usual suspects like defending champion Jamie Whincup, former champion and teammate Craig Lowndes and the bloke very keen to grab his first title, Mark Winterbottom, will all have their own agendas.
• Van Gisbergen grabbed pole position with a stirring drive yesterday.
Second fastest in the top-10 shoot out was Winterbottom followed by Lowndes, who was quickest in the qualifying session.