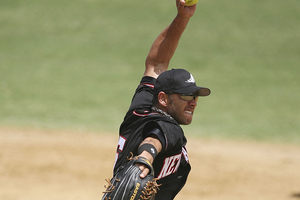 New Zealand took a confident first step towards reclaiming the World Softball Championships, beating Mexico 5-0 on the North Shore tonight.
The Central Americans were never going to threaten the five-time champions, but the Black Sox still needed to make a statement ahead of sterner tests next week.
They managed to do just that in their first game of the 16-team tournament at Rosedale Park, taking a 4-0 lead after two innings before the pitching staff prevented Mexico from advancing past second base.
Pitching was a major concern heading into the tournament, with New Zealand possessing none of the power arms boasted by the likes of the Australian staff.
But Heinie Shannon and Nik Hayes made a good start in the search to win back the title the Black Sox lost to their transtasman rivals in Canada four years ago. Shannon pitched into the fourth inning and gave up four hits, before coach Eddie Kohlhase handed the ball to the impressive Hayes to finish the game with 3.1 hitless innings.
Two RBIs from right-fielder Donny Hale set the tone for the offence while veteran Jarrad Martin - playing in his fifth world champs - hit a solo home run.
New Zealand came into the tournament in patchy form, having lost to local club sides but won warm-up games against South Africa and the Czech Republic. They carried the latter results into the top of the first inning against Mexico, with Hale's one-out single enough to drive in Tyson Byrne after the shortstop reached with a triple.
The Black Sox threatened to blow things open in the second but settled for three runs after Brad Rona flied out with the bases loaded. Mexico pitcher Gabriel Melendez struggled with his command throughout the inning, giving up a lead-off home run to Martin before hitting two batters and walking Hale with the bags full.
Mexico made a pitching change in the fourth but Oscar Martinez wasn't much more effective. After walking Tyron Bartorillo, second baseman Nathan Nukunuku - a late call-up to the squad to cover for injured captain Rhys Casley - smoked a grounder up the first base line to score Bartorillo and make it 5-0.
The offence was kept quiet from there, but Hayes held the lead and the Black Sox took the win.
New Zealand face another minnow in Colombia tomorrow afternoon, before tougher tests in the form of Japan, Canada and Argentina await next week.
- APNZ