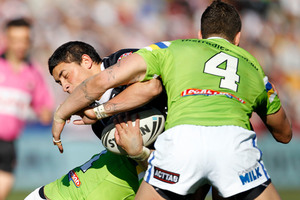 Sick of losing some of their best young talent, Canberra Raiders chief executive Don Furner has vowed to keep battling to the end to retain emerging enforcer Josh Papalii.
The Raiders hope they can convince 20-year-old Papalii to knock back a reported three-year deal worth more than A$1 million with Parramatta before the round-13 deadline.
But Furner acknowledged Canberra was "an easy place to target" for rival NRL clubs.
"We're just going to keep punching away and keep fighting to keep him," said Furner.
"He knows how important he is to us. Hopefully we'll make him change his mind. He likes it here and his family is here.
"He's a great kid. He could stay here for a couple more years and he'd only be coming off contract at 22 or 23, so he's well-placed."
Papalii enjoyed a breakthrough season last year, highlighted when he battered rugged Cronulla and NSW State of Origin skipper Paul Gallen in a memorable elimination final clash.
His sensational form meant the New Zealand-born lock had to make a choice on allegiance, opting to turn his back on his country of birth to be in contention for Queensland Origin selection.
If lured to the Eels, the loss would be a big blow for the Raiders who developed Papalii through their Souths-Logan feeder-club pathway.
Furner said the club had become frustrated by the number of talented young players pinched from the nation's capital by rivals.
"We're an easy place to target. It's cold. People take them to the beach and say 'how good is this?"' Furner said.
"For years I've pushed that there should be some type of concession for developing juniors.
"It's frustrating because we put a lot of time and a lot of money into junior development and we could quite easily sit back and just pinch blokes at 23 or 24 and let some other club do the development."
Furner said the Raiders had recently changed their development strategy and started focusing more on recruiting country kids, who generally seemed to prefer living in Canberra over the bigger cities.
- AAP