Offseason spent with plenty of neck work, heavy squats and working on technique means loosehead is ready and able to fill Woodcock's big boots for Blues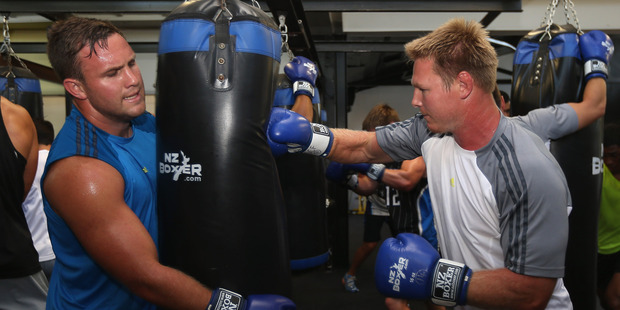 Set-up, bind and body angle are the rugby triggers in Tom McCartney's brain these days.
They are the sort of scrum prompts all loosehead props go through before the crouch, touch and engage commands from referees in Super 15 rugby.
For McCartney they are new ground. He has played prop before at this level but usually to help out or cover around his regular duties as Blues hooker.
But when Tony Woodcock left it until late last year to announce he was heading south to the Highlanders, the Blues were shy of some loosehead clout.
Angus Ta'avao covers both sides but is perhaps more comfortable in the No3 jersey while Tim Perry is a new man who has come up from Tasman.
Charlie Faumuina can swap but the Blues want him to concentrate on his All Black tighthead role while Ofa Tu'ungafasi only occupies that side of the scrum.
Step forward McCartney, a six-season veteran and 109kg pile of muscle who is known as "The Freak" for his devotion to gym and training work.
"I had a chat with JK [John Kirwan] and he said it was over to me. It was my choice. It was an opportunity and a challenge. But he did not want me covering both hooker and prop.
"I had played prop at club level and a bit higher up. It seemed a good chance because it will not be long before Keven Mealamu is back," said McCartney.
"One of the things I did not want to do was say, 'Right I am playing prop I have to put on 10kg,' because part of what makes me click is I can get around the park reasonably well. I have that ability to chase and tackle and I did not want to lose that."
The offseason meant plenty of neck work, heavy squats and working on his technique with scrum coach Nick White and invaluable opposed sessions with Faumuina.
He wanted to add a couple of kilos but hill training knocked that idea.
"I'm still trying to get a few technical things sorted but I have been improving each week. I have scrummed against a few blokes now and I know if I get things right then I am in the fight," said McCartney.
Every prop was different. Ben May was tall and it was a tough battle last week against the Hurricanes tighthead.
"Early on it felt like they got some good hits but we got better as the game went on.
"Ideally, we would like quality possession where there is no pressure and the No8 is sort of walking over the ball. It is always a contest, though, because the other team is always doing something to try and disrupt."
Watching closely is McCartney's younger twin brother, Marcus. He suffered brain damage at birth but has been involved with rugby for some time and, at Kirwan's insistence, helps the Blues during the week.
Marcus does not have to give Tom "advice"on his scrum strikes or lineout throws any more and the converted prop is happy to shelve that responsibility.
"It is something I don't have to think about and that makes it easier, if you can scrum well and then get around the track and make as much impact as you can."
McCartney will square off against Owen Franks and the Crusaders tonight. Concentration will be the messages for the Blues.
"If you get into good position for the hit then you are better off. Sona Taumalolo was outstanding when he was at the Chiefs and he was not a big man but had speed on the hit then kept pushing and working hard.
"I think the way the game is going and being played by teams you can't carry a lot of weight, it is too hard."
McCartney likes an up-tempo game because mobility is one of his weapons.
"Later on there will be drizzle and rain and the games will slow but NZ teams are as tough as you get."
McCartney and his mates hung tough in the setpiece against the Hurricanes but tonight will be a gold standard inquiry.
Mike Cron has been at the Blues for a couple of sessions and he and White discuss ideas and tactics regularly during the season. After tonight some of that theory will have turned into more practice.