If James Anderson has his way, NZ's batsmen will be mere fodder in his pursuit of top test bowler status.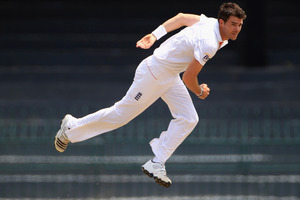 James Anderson clearly remembers his first international wicket, if not for its quality.
Adam Gilchrist, on 124, at Melbourne in December 2002. It didn't bend around a corner and whistle out the middle stump.
"It was a wide half volley which he chopped on."
They all count though, and 11 years on Anderson is on the cusp of jumping one place to become the fourth most prolific England test wicket taker. Ten wickets in the three tests will put him ahead of the splendid left arm spinner Derek Underwood; a cracking campaign and 20 wickets would ease him past the legendary Fred Trueman into third.
The champion swing bowler from Burnley, Lancashire is already his country's highest wicket taker across all three international forms of the game, with 535.
Tall Steven Finn caught the eye with a rip-snorting performance in the final ODI at Eden Park, but Anderson is the man who leads the attack and to whom England will turn if they need a breakthrough.
Four days playing for Auckland in early 2008 were a pivotal time in his career.
While England were being soundly beaten in the first test at Hamilton, Anderson played for Auckland against Wellington at Eden Park's outer oval early in England's last tour. His figures, two for 95 off 38 overs, don't tell a story, though.
For the second test at the Basin Reserve, in came Anderson and Stuart Broad, for his second test, for old stagers Matthew Hoggard and Steve Harmison. Hoggard never played again; Harmison had six more tests, but was running out of petrol.
By that stage, Anderson, after a roaring start to his test career, had taken 62 wickets in 20 tests at 39 each. He was flatlining in a sense.
Auckland revitalised him. He ripped through New Zealand's first innings, taking five for 73 and hasn't looked back. His next nine tests produced 42 wickets at 29.5.
"I didn't get many wickets but bowled pretty well," he remembered of his Auckland experience. "That cricket at Auckland really helped me put in some good form and set me up well for the test.
"I've always been thankful for that opportunity. That's the game we kicked on from."
Anderson's ability to swing the ball both ways, late, makes him a menace for batsmen, especially with the new ball. He may lack the sheer hostility of the game's best fast bowler, Dale Steyn, but Anderson can be equally as effective.
Anderson's record against New Zealand is impressive.
In five tests, he's taken 27 wickets at 24.07. He warmed up in the ODI leg of the ANZ international series with seven cheap wickets, his first, a booming inswinger to bowl BJ Watling early in the first match in Hamilton, a corker.
Anderson, 30, is proud of his England achievements.
"There were times when I doubted if I'd still be here.
"Playing for England is still such a big thing for me. It's something I dreamed of as a kid and I still take a lot of pride in playing. The times when you're out through lack of form or injury make you cherish the moments you do get to play.
"That also makes you want to keep improving. You never think it's going to come true and when it does you want to hang on to it as long as possible."
Anderson is a small picture man. Getting the little elements right is a key for him.
"The way I've got to this point, I've not been thinking about this milestone. They all tot up and the way I got here is concentrating on small bits, each spell, the next match."
The big picture looks after itself.
When England regained the Ashes in Australia in 2010-11, Anderson was a kingpin, taking 24 wickets at 26 each.
"That's probably the best I've bowled in a five-match series. I was consistent, took wickets all the way through. That's the one that stands out for me."
His pride in playing for England shines through when the Indian Premier League is raised. It is an issue for England's players who want to cash in but are unable to maximise the chance because of England's early-season international obligations.
While some have gone public expressing their frustration - and one county, Nottinghamshire, have banned their players from taking part in the IPL - Anderson doesn't get why the clash should be a problem.
"I can't comprehend putting it ahead of international cricket. I don't understand that, especially test cricket which I hold in high regard," he said, slowly shaking his head.
"But some people have different priorities, some prefer T20 cricket. I couldn't see me doing it."
He's not going anywhere soon either. There are more wickets to be taken for England, more overs to bowl for his country in pursuit of the world No1 test ranking.
And because he's not reliant on outright pace, is more skill and rhythm, plus being rotated in and out of less significant campaigns, thus lengthening his time at the top, Sir Ian Botham's record is in his sights, and beyond.
"If I stay fit and play for long enough, I think I can," he said of eclipsing the great allrounder. For now, it's New Zealand, for whom combating Anderson is among their more important challenges.

England's leading bowlers
* Sir Ian Botham
383 wickets at 28.4, 102 tests
* Bob Willis
325 at 25.2, 90 tests
* Fred Trueman
307 at 21.57, 67 tests
* Derek Underwood
297 at 25.83, 86 tests
* James Anderson
288 at 30.39, 77 tests