In a country where soccer is king, Argentina's softball team have to be very serious about pursuing their sport.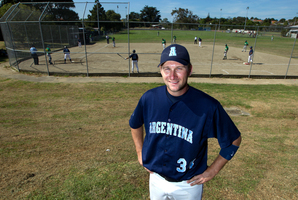 Juan Potolicchio smiles when he recalls the sports psychology sessions the Argentinian softballers underwent before the world championships, which start at North Harbour today.
"One guy introduced us to ubuntu, a [southern African] philosophy to life. It was something very weird but nice," he says.
"Ubuntu means you are a person because of the rest of the people you are involved with. You share everything, your knowledge, your needs... everything."
But ask opponents about Argentina and they keep mentioning one man, even if they have trouble pronouncing his surname - Potolicchio.
The 30-year-old is their ace pitcher and much will rest on his shoulders if Argentina are to cause any upsets, as some believe them capable of.
Much of this optimism stems from the junior world championships in Parana last year - Argentina won the title, which suggested their prospects were on a rise.
Potolicchio is from a place near Parana, a river town in the east and the softball capital of Argentina. He played a lot of sports but fell in love with fastpitch and, as a tall kid, had the inside running for the glamour pitching duties.
Like a handful of his teammates, including the well-regarded veteran pitcher Lucas Mata, Potolicchio plays for American club teams which makes him part of an international playing community. Black Sox Wayne Laulu and Patrick Shannon are friends, and Mark Sorenson, Donny Hale and Rhys Casley are among the players who have inspired his career. The ex-Auckland softball identity Mike Stapleton also brought a lot of New Zealand influences into the Argentinian game.
Thanks to the internet and social media sites, huddles of Argentinian fans will be able to follow their progress. Potolicchio even recounts a teammate using a "cellphone stuck on a fence" to give video coverage of games at the Pan-Am tournament.
"In Argentina, everything is around football, all the money, sponsorship and Government help. Basketball and field hockey for women are next after that.
"Our help from the Government is small but okay and always welcome, but softball is very small and the coverage so little - you've got no idea. If you mention softball someone might say 'is that the game with a stick?'
"But there is a very strong commitment in the game with serious people involved. Our weight training is a lot more serious, as are the training techniques and fitness, and for the first time in a long time we work on the psychological stuff.
"We have come here with the idea of winning it, although we would have to play our best-ever fastpitch. Of the 17 players, 10 of us are clowns, always laughing and with a smile and a joke and when you're stuck together in a hotel at a tournament with good days and awful days, that makes a huge difference.
"We're realistic, but it would be heaven to face New Zealand in the final and the result probably wouldn't matter from there. That would be the best game ever."