Former professional rugby players are the best of mates but also fierce rivals.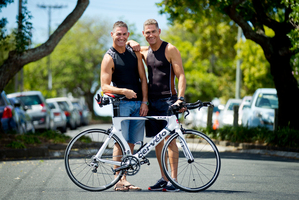 When you look at triathletes and other sports ... basically if they don't perform they don't get paid. It's very different to rugby.Glen Marsh The majority of competitors in tomorrow's Ironman New Zealand in Taupo will fight a personal battle on what is likely to be a very long day for them.
For the Marsh twins, Tony and Glen, it's a little different, although the long day bit still applies. Like everyone else in the extremely tough 3.8km swim, 180km cycle and marathon run event, the former professional rugby players have their own goals. But they are also extremely keen on beating each other; or finishing together. Either way, neither wants to come second to the other.
The identical 40-year-olds are best mates but also fierce rivals. While Tony has done an Ironman before - the Nice event in France in 2011 which was a painful experience for him - both have followed their own training programmes for tomorrow and haven't trained together much.
Tony is also slightly leaner at about 88kg compared with Glen's 91kg, although both look extremely fit and well-prepared. Despite his relative inexperience, Glen beat Tony by eight minutes in January's Ironman Auckland 70.3 event for a 5h 17min 02sec finish.
They have done three triathlons together, with Glen coming out on top in two of them. Perhaps not surprisingly given their genetic makeup, they generally find themselves in the transition zone together after the swim and bike - with Glen having a slight edge on the run.
"We're only average. We're pretty poor swimmers really," Glen says. "We don't really get better, do we? But really, you're just competing against yourself, although it's a bit different for us."
Tony: "It's always been like that growing up. Being known as twins, we always strived to be better [than each other] and have our own identity as well. And that's no different now. We're competitive and even though we've finished playing rugby, that side of things hasn't changed. You still want to go out there and give it your best shot and if that means beating him, it means beating him."
Tony's first Ironman experience wasn't pleasant. He trained six months for the event after getting a call-up from a mate in France, who was doing it to celebrate turning 40. After getting through the swim and bike legs okay, he cramped badly on the run.
"I was a bit underprepared," Tony admits. "It was quite tough and I suffered pretty bad cramps in the run part of it and shuffled 30km. That was very much an anticlimax when you finish like that and you've still put in long hours of training."
The results confirm that Tony took 5h 38min 52sec to complete the marathon. The event took him 13:55.10 in total.
"I knew he'd do another one after that," Glen says.
"Coming from our background you're never happy," Tony adds. "You always think you can do better. We entered the Auckland half about five months ago and I said, 'Come on, let's do the full, it's only about another six weeks later. We'll just up the training a bit,' and that's how it came about."
The Marsh brothers are difficult to tell apart - Tony says he is still surprised at how similar they are and he believes they are becoming more so - but there are a couple of giveaways. A big scar on the right side of Tony's chest from surgery on a chest injury during his rugby career is one indicator, as is another on his left biceps.
After beginning their rugby career together at Counties, both went their separate ways.
Tony, a second-five, won back-to-back titles with the Blues and Crusaders in 1997-98 before a move to France, where he played for ASM Clermont Auvergne. He fashioned a remarkable career in France, playing 21 times for the national team after making his debut in 2001, and recovering from testicular cancer in 2003 to play again at the highest level, before hanging up his boots. He ended his time in France as Clermont Auvergne's strength and conditioning coach.
He returned to New Zealand four years ago and now works for himself as a personal trainer.
Glen also spent 10 years abroad immersed in rugby. After a short career at the Chiefs, the loose forward went to Japan and played for NEC. He played a handful of games for the national team under John Kirwan and was in line to play for the Cherry Blossoms at the 2007 World Cup before the International Rugby Board ruled him ineligible because of a long-previous appearance for New Zealand A.
He coached NEC for two seasons before returning to New Zealand two years ago and also lives in Auckland. Married with a child, he works as an insurance broker.
"We're best mates," says Glen, "and being identical twins there is a connection. I don't know if I can explain it. We say that only we know. It's different to normal brothers, not that you love them any less, but it's growing up together and doing everything together; I suppose it's having that rivalry too at the same time. Also, what we've done in our lives, we've spent 10 years each in a foreign country so we both understand what it's like to do that."
Looking back on his international career, Tony says: "It's a little bit surreal. Even now it's hard to imagine it ... you get to experience a lot of emotions that most people don't - like running out on to a ground in front of 80,000 people."
Glen says the pair had an added appreciation of athletes in individual sports.
"When you look at triathletes and other sports ... basically if they don't perform they don't get paid.
"It's very different to rugby," he adds. "But it's what you get used to and how much you push yourself. You go on a 10km run in rugby ... I used to enjoy running but it was a long way to run, whereas now it's just a warm-up."
He adds: "I still want to beat [Tony], but there's another side to it too. If we could I would like to finish together, because that would be a pretty amazing experience to share. But at the same time it's probably a bit unrealistic because one could have a bad day and one a good day. We're at a similar level and it will come down to who's good on the day."

Big day out in Taupo
29th Ironman NZ
Elite race start: 6.45am
Age group race start: 7am
3.8km swim, 180km cycle, 42.2km run
Men's top seeds, in order
Cameron Brown (NZL, Auckland), Terenzo Bozzone (NZL, North Harbour), Marko Albert (Estonia), Courtney Ogden (Australia), Bevan Docherty (NZL, Taupo)
Women's top seeds, in order
Meredith Kessler (USA), Gina Crawford (NZL, Wanaka), Carrie Lester (AUS), Megumi Shigaki (JPN), Candice Hammond (NZL, Cambridge)
- APNZ