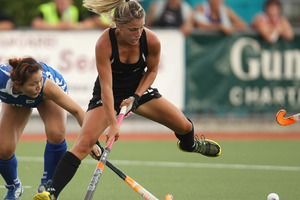 Consistency is the buzz word from Black Sticks women's coach Mark Hager.
And his players get the chance to show they can back up a strong display when they face formidable Argentina in the fourth of the five-game series in Rosario tomorrow.
Having lost the first international 4-1, drawn the second 1-1, New Zealand pulled off a cracking 4-1 win in the third game, leaving former Australian star Hager delighted, but also trying to keep a sober philosophy about the success.
He knows that prodding a tiger can produce a fierce response, especially for Argentine players outplayed in front of their own fans.
"We don't want the win to be a one-off," he said from Rosario. "We're trying to get consistency in our performance. Tomorrow is not going to be easy. Argentina don't lose that often."
Argentina were Olympic silver medallists in London last year and at No 2 are ranked one spot higher than New Zealand, who finished fourth at the Games. However Argentina have been difficult opponents down the years for the Black Sticks.
New Zealand have beaten the South American powerhouse just three times in 21 meetings over the last 10 years, against 15 losses.
The Black Sticks used a changed in style yesterday, pressing harder producing more one-on-one situations, which seemed to suit. And Hager pointed out, as if to re-emphasise the need to regroup and at least maintain their standards for the last two games, that Argentina were without two senior players, including hockey's best player, Luciana Aymar, for yesterday's match.
The New Zealanders have an experienced leadership group of seasoned internationals Stacey Michelson, Gemma Flynn, Katie Glynn and Anita Punt, plus a core of up and comers.
"Our regions are producing pretty good programmes and our young players are riding the crest of a wave from the Olympics," Hager said.
"They've come in at a good time. We've kept a lot of senior players in the group and they're helping the young ones coming through."