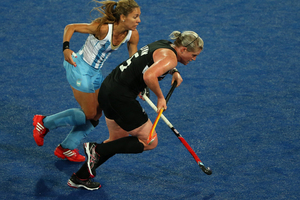 New Zealand are doing it step by step - first a loss, then a draw and at the third time of asking a terrific women's hockey victory over Argentina in Rosario yesterday.
The win is just the Black Sticks' third in the 21 meetings between the teams over the past 10 years. Even though New Zealand are ranked third, one spot behind the Olympic silver medallists, it is a rousing result for coach Mark Hager and his squad, a mix of last year's Olympians and a clutch of up-and-coming players.
The Black Sticks lost the first match of the five-game series 4-1, drew the second 1-1 before rising to the challenge yesterday.
"That shows the team is heading in the right direction," Olympic captain Kayla Sharland said yesterday.
Sharland, who is returning to the game before Four Nations tournaments in New Zealand in April, believes the result can be put down at least in part to the development work being done by Hockey New Zealand.
"[Businessman] Owen Glenn has come on board and helped our junior programme and we're pushing those players through," Sharland said.
"The London Games have inspired a lot of people. This result is huge. The older players, and the young ones, most of whom are on their first tour away from New Zealand, would have taken so much out of that game."
Sharland believes the key for the remaining two tests is to keep building on key elements.
"We've been creating a lot of opportunities but not putting them away. I'm sure Mark and the team have got a few things they'll be wanting to work on to continue to improve."
Sharland cautioned that Argentina, who boast 15 of their 16 London Olympic squad, will be highly motivated in the fourth international tomorrow afternoon (NZ time).
Goalkeeper Bianca Russell marked her 50th test appearance with strong work early on, before striker Katie Glynn put the Black Sticks in front before halftime from a penalty corner.
Indefatigable midfielder Anita Punt, with a solo run and goal from halfway, increased the lead, striker Krystal Forgesson added a third, before Argentina pulled a goal back through Giselle Jurez from a penalty corner. Punt finished the scoring from another penalty corner.
Coach and former Australian star Hager is a hard taskmaster, but he pronounced it "a pretty satisfying" win. "It was a really fast-paced game, which is good."
New Zealand 4
Argentina 1