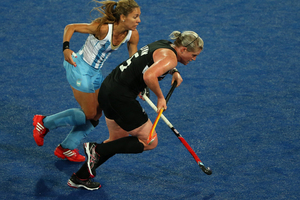 The Black Sticks Women achieved the near impossible today, beating Argentina 4-1 on home soil in Rosario in their third test of the five test series.
From the 21 times that the two teams have met in the last ten years, this is only the third time the Black Sticks have pulled off a win.
"We are pretty satisfied with that performance. We started a little bit slow and were under the pump quite a bit early on, Bianca Russell [goalkeeper] kept us in the game in the first 10-15 minutes," says Hager.
"After that, we upped the tempo and increased our chances to score and ultimately converted. It was a really fast paced game which was good," says Hager.
A 1-0 New Zealand lead at half time was a good start thanks to Katie Glynn scoring from a penalty corner late in the first half.
The game quickened in the second half and despite the home crowd chants, two green cards and increasing pressure from the Olympic silver medallists, the young Black Sticks side continued to attack and score.
Ten minutes into the second half, the speedy Anita Punt picked up the ball at the half way mark and got it around defenders, into the goal circle and passed the keeper. The score line then stretched to 3-0 when Krystal Forgesson made the most of a penalty corner variation - receiving from Punt and flicking it high into the net.
Argentina finally got what they were after when Giselle Juárez converted a penalty corner making it 3-1.
Punt continued to make her influence on the game when she scored the fourth and final goal of the match from a penalty corner flick.
The stand out players today were Punt, Forgesson and Russell who played her 50th international test today. Captaining the side was Gemma Flynn.
The Black Sticks have tomorrow off before they play their fourth match on Friday 1 March at 1pm (NZ time).
RESULT
New Zealand 4 (Katie Glynn, Anita Punt x2, Krystal Forgesson) Argentina 1 (Giselle Juarez). HT: 1-0
-nzherald.co.nz