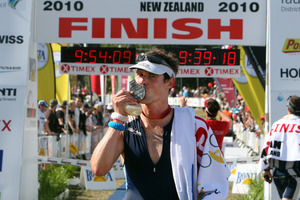 The Ironman organisation has offered competitors in Saturday's event in Taupo extra qualifying spots for the World Championships in Hawaii.
Organisers today confirmed there will be 50 qualifying places for age group participants, an increase of 10 spots.
"This is a special recognition of our status as the original international ironman event," said Ironman New Zealand national manager Janette Blyth.
"Hawaii remains the Holy Grail of the sport and a significant number of the 1430 competitors in Saturday's race have qualification for the world championships as a goal. So to increase the number of slots by 25 per cent is significant and exciting for those looking to test themselves against the best in the world in Hawaii."
Ironman has already confirmed that next year's 30th anniversary race in New Zealand will be increased to 60 qualifying places in recognition of the milestone.
There are 1430 participants from 51 nations competing in Taupo on Saturday with the professionals starting at 6.45am, 15 minutes ahead of the rest of the field, with the winner expected by 3.15pm and the final cut-off at midnight.
- APNZ