Promoters' ambition to pit young boxer against veteran Francois Botha the 'last straw' in testy relationship.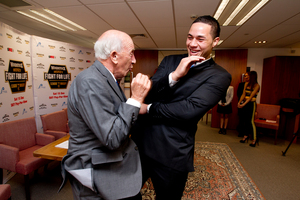 Sir Robert Jones has quit as Joseph Parker's manager after clashing with promoters Duco Events over the suitability of the heavyweight boxing prodigy's opponents.
Duco's directors, David Higgins and Dean Lonergan, had repeatedly ignored his instructions not to pit Parker against opponents who lacked credibility.
Duco's attempt to pit Parker against Francois Botha, the South African veteran whose last bout against Sonny Bill Williams resulted in accusations of fight fixing, failed drug tests and a farcical early finish - and the subsequent matching of Parker with a novice Australian fighter - was the "last straw" in an uneasy relationship between manager and promoter.
"I've just had enough," Sir Robert said. "I'm not going to be party to this crap. I just can't take any more."
The attempt by Duco to match Parker with Botha against his instructions, and the low quality of Parker's previous opponents had opened him up to continued accusations of hypocrisy, Sir Robert said.
"I've been on record on television and radio saying Botha shouldn't be fighting and it's a disgrace and so on. Then I pop up with my bloke fighting him - I mean, good lord. This causes me massive embarrassment.
"The final straw was reading in the paper they [Duco] were calling [Botha] a coward. No one is a coward who gets in the ring. No one. All this sort of s***, I don't want to be party to it."
Sir Robert had not informed Mr Higgins and Mr Lonergan of his decision before speaking to the Herald yesterday. He preferred they find out about it "in the paper" just as he had with the news of Parker's next opponent.
However, the Herald contacted Duco Events co-director David Higgins, who said they had known about Sir Bob's resignation for a few days now. "We respect Sir Bob and we respect his decision ... and I'm sure he'll watch Joseph with interest, but certainly there was no meeting of minds about opponent selection going forward."
Mr Higgins said the idea to put Parker up against Botha came from advice from expert match-makers, who took into account a boxer's style.
"[Botha is] absolutely the next big step for Joseph."
Mr Higgins said they had spoken with Parker and he was "very excited" about fighting against Botha - a fight expected to take place in May.
The split comes less than four months after Duco announced a multi-million-dollar deal with the 20-year-old Parker at Sir Robert's Auckland offices.
Even then there were signs of tension in the relationship, with Sir Robert unhappy about Mr Lonergan's description of what was expected of Parker as a professional fighter.
"He's in the hurting game now," Mr Lonergan said at the time.
Sir Robert was also unhappy about the selection of Hirewa Te Rangi as Parker's opponent for his next fight, believing the 45-year-old journeyman was unfit to fight. Sir Robert was just as unimpressed with Te Rangi's replacement, describing the 167kg Terry Tuteru as a "massive pot-bellied elderly man".
Sir Robert said he hoped to remain friends with Mr Higgins and Mr Lonergan. "I like them, they are fun. I thoroughly enjoy their company."