Terror To Love now equal Interdominion favourite after coming up with barrier seven.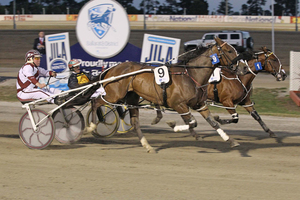 Kiwi Interdominion hero Terror To Love faces a potentially tricky draw in Sunday's A$750,000 final at Menangle.
So much so that bookies have drifted him out from favouritism for the great race after he drew barrier seven at yesterday's barrier draw.
Terror To Love had been the long-time favourite for the Inter and bookies commented publicly he would only lose outright favouritism if he drew the inside of the second line.
However, they changed their tune after he drew seven and, more importantly, the other three favourites in the race drew inside him.
So now the dual New Zealand Cup winner shares the top line of betting with I'm Themightyquinn, who drew barrier six, at $3.20 the pair.
Caribbean Blaster moved in from $8 to $5 with Australian bookies after drawing perfectly at barrier two, while Mah Sish strangely drifted from $6.50 to $7.50 after coming up with the ace.
There is a school of thought he will get crossed early because of his lack of gate speed but his driver Anthony Butt is unconcerned by the barrier.
"He has more gate speed than people realise and we will have options early," said Butt.
"And if they end up going very hard then being on the markers is the place to be."
While Butt believes he has options, Terror To Love's driver Ricky May might have some thinking to do before Sunday's epic contest.
If he chooses to restrain the impressive stallion at the start he could end up close to last as the four horses drawn on the second line have the option to punch through inside him.
But May might be reluctant to press forward too aggressively as there is plenty of speed on the front line and that includes rampant leader and fellow Kiwi pacer Sir Lincoln.
Sir Lincoln, who races in Australia as Lincoln Royal, led and beat Terror To Love in last season's Auckland Cup and his co-owner John Street left yesterday's barrier draw audience with no doubts as to where he wants to see his star on Sunday, even from barrier nine.
"He will be going forward and we want to see him in front," said Street.
That raises the possibility of good speed early in the race and could be enough to persuade May to keep his nose clean for the first lap of the giant track.
I'm Themightyquinn's tactics are already well known, as he will duck for cover early and hope for a hot pace that allows him to slingshot past his rivals.
His trainer Gary Hall is adamant the explosive pacer is as good as when he won the last two Interdoms and he deserves equal favouritism.
"I have thought all along he deserved to be the favourite and I think he and Terror To Love are the only two real winning chances in the race," said Hall.
I'm Themightyquinn will take part in a high-powered trial at Menangle today, including taking on star Kiwi four-year-old Christen Me.
The field for the A$750,000 Interdominion Pacing Final is: Mah Sish (1), Caribbean Blaster (2), Jackka Clive (3), Chariot King (4), Excel Stride (5), I'm Themightyquinn (6), Terror To Love (7), Mysta Magical Mach (8), Lincoln Royal (9), Keeyang Cullen (10), Pub Blitz (11), Mach Alert (12), Bitobliss (13), Washakie (14). Emergency: Devil Dodger, who if he gets a start, will take the barrier of the first scratched horse.