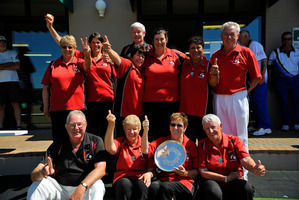 Mike Kernaghan performed the outstanding feat of winning all eight of his singles matches over three days to inspire Dunedin to a thrilling national men's bowls inter-centre title win at Howick yesterday.
Giving a master class of draw bowling, Kernaghan gave Dunedin a flying start in the final against Manawatu's Ross Ellery with a 25-19 win, with Ellery, despite being outdrawn, managing to stay in the contest with some effective run shots.
Dunedin, even though Shaun Scott and Mark Watt dropped the pairs to Philip Skoglund and Craig Gush, then clinched the title by winning the fours, when the Kerry Becks-skipped line-up picked up two shots, one on a measure, on the last end to pip Manawatu 12-11.
However, it was Kernaghan, with his flawless record and a string of wins over such notables as Nelson's international Shannon McIlroy and Wellington's Rob Ashton, who was Dunedin's hero. The national singles champion in 2000-01 and pairs champion in 2007, Kernaghan returned to Dunedin three years ago after working in Auckland sports administration.
Such was his accuracy many might wonder whether Kernaghan would again be useful at national level. However, he said he was no longer interested. "I was just lucky eight times," he said. "And God I'm not good enough anymore." Work and family were now his priority.
Canterbury scored an equally exciting win in yesterday's women's final against Nelson, the pairs clash between national champions Sandra Keith and Serena Matthews and Nelson's former world champion Jo Edwards and Amy McIlroy proving the crucial match.
Keith and Matthews overcame a slow start to win 21-17, adding to Keith's already fine Auckland record.
Her consistent success has won her a place in next month's internationals against Australia and she said it was a bonus to gain an important preparation for that event.
Nelson's other world champion, Val Smith, was almost as impressive as Kernaghan in gaining an edge in her singles showdown with Canterbury's Jan Khan. Her effort was nullified by the win by Keith and Matthews in the pairs and then in the fours when the Bev Morel-skipped Canterbury combination prevailed.
Canterbury had to survive an even more hair-raising semi-final against a Hawkes Bay side, in which Natarsha Grimshaw, was the star performer, overcoming Khan in the singles.
With the fours drawn, Canterbury got through on the points differential provided by the pairs win of Keith and Matthews.