Struggles may not be over but the signs are looking promising for Kirwan's men.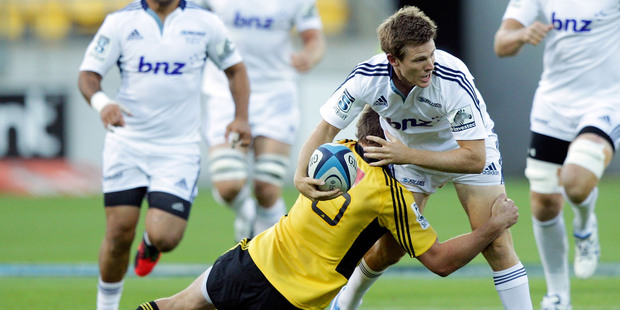 Blues coach John Kirwan eyeballed his squad early in the week and demanded they show "mongrel dog attitude" for their Super 15 initiation.
The response was unequivocal and insistent. It needed to be because the Blues were worked over by the Hurricanes in several areas and stiffed by the match officials for a penalty try.
The struggles have not disappeared for the Blues but signs of a revival were strong in their 34-20 win at the Cake Tin on Saturday night.
Rugby coaches love prattling on about "there being no I in team" and for a rare occasion, that jingle applied to the Blues when they opened their campaign in Wellington.
They played shoulder to shoulder, concentrated on traditional roles and showed the resilience which has been too flaky for the past decade.
One victory does not guarantee a season's success and the pressure will ratchet up another notch when the Blues host the Crusaders at Eden Park on Friday.
However, the first-up performance will have stirred the pedigreed coaching staff and endorsed the players' belief they can give the series a serious shake.
As a first step for 2013, it was a giant stride for the Blues.
They hit the ignition button once wing Frank Halai was sinbinned, harshly, and the Blues yielded a penalty try.
"That was a turning point in our favour, I thought," coach John Kirwan said.
"Ali Williams got the side together and we showed our courage and conviction from there."
The Blues scored 18 unanswered points in a withering finish to the match.
Charles Piutau, Rene Ranger and Francis Saili can break down any defences with their mix of power and footwork but that damaging ability can also leave them struggling to link with teammates.
However, they are on the rise and the warnings are there in red capital letters for their rivals.
Halfback Piri Weepu marshalled the systems and delivered the service in his 100th Super game while new five-eighths Chris Noakes showed strong signs and a running game which has not been heavily associated with his career.
Both packs had their battles at scrum and lineout but the Blues conceded fewer turnovers, recycled more rucks and created more carries.
Blindside flanker Steven Luatua breached the advantage line often and there was robust play from Peter Saili, James Parsons and Williams.
Saili took a knock to his Achilles but the medical staff believe he will be fine for the next match.
"We have put the Hurricanes game to bed now. We had a strong gathering afterwards where Ali led the talk about getting things right for the Crusaders," said Kirwan.
Canes coach Mark Hammett did not buy into any pre-match underdog comments about the Blues but will be pondering whether his men did. They struggled with the pace of the match even when they had an extra man.
Captain Conrad Smith was concussed late and that will be another issue before their next away match on Friday against the Reds.
Noakes brings his game out of hiding
Chris Noakes in his Blues kit did not resemble the five-eighths who had been padding around the provincial scene for most of his rugby life.
The change was pronounced as Noakes taunted defences with his running game, kicked steadily and drove the game plan the coaching staff had wanted.
"He was a bit Nick Evans-like, wasn't he," said coach Sir John Kirwan. "He had a really encouraging game and was one of our best."
Kirwan inherited Noakes from the previous Blues regime and there was uncertainty whether his style would fit in with the plans for 2013. But the 27-year-old, who beat out Baden Kerr for the season start against the Hurricanes, brought a game he has been hiding and the Blues have been developing.
"He took it to the line early, he threatened and we had a lot of guys running off him. That encouraged the style we want to play," Kirwan said. "As a first five-eighths you have to vary it up."
Backs coach Grant Doorey and Kirwan have spent time with Noakes, explaining their philosophy and how they want him to direct that game plan.