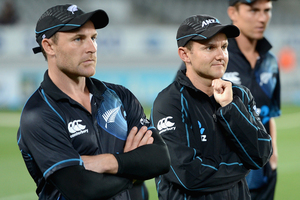 New Zealand are hoping a change of format will prove advantageous in at least one respect when the test series against England starts in Dunedin next week.
England seamers Steven Finn and Jimmy Anderson put New Zealand through hoops at Eden Park on Saturday, reducing them to 18 for three en route to a five-wicket win which sealed the ODI series 2-1.
Finn, tall and exceptionally sharp, and the experienced swing man Anderson, were too much for test squad members Hamish Rutherford, BJ Watling and Kane Williamson.
Finn's bounce and seam movement also proved desperately hard to score against.
Watling was gone for one of 10 balls in the second over; Williamson got seven off 12 balls; while Rutherford managed just two in 19 deliveries.
Finn's opening spell of five overs produced two for five; after eight overs he'd conceded just 10 runs.
But New Zealand coach Mike Hesson is hoping the changed circumstances of limited-overs to test batting will bring some relief, in an odd kind of way.
"We were able to defend against Finn and Anderson, but (it's hard) when you're trying to score and the ball kept hitting the splice, or force the ball which wasn't there to force," he said.
"There are different questions asked in a test, which balls to play, which to leave, where can we score."
The imperative to be scoring runs from the start of an ODI innings isn't there in a test match, where patience, especially in opening batsmen is a virtue.
Hesson is hoping that mindset will remove some of the heat off the New Zealand openers - likely to be Peter Fulton and Rutherford - which stymied the New Zealanders at Eden Park.
"Finn's opening spell exposed a number of different areas and Anderson's pretty decent as well. They ask us different questions," Hesson said.
"They're a challenge without doubt and we've got to find ways to get past that.
"I'm confident with the group we've got that we are able to do that."
Captain Brendon McCullum, who strained an abdominal muscle during his racy 79 on Saturday, will be monitored in the next few days.
Hesson is confident McCullum will be ready for the test, but believes he will be kept out of Ford Trophy 50-over games this week and rest the injury.
The coach is unwilling to accept any view that gives his team no chance in the three tests. However he has a pragmatic attitude towards the disparity in world rankings. England are No 2, New Zealand No 8.
"There's no doubt we're at different ends of the spectrum in terms of England's form over the last couple of years, and ours.
"But we've had the odd test where we got it together and were able to put good sides under pressure. That is certainly what we're looking to do in Dunedin."