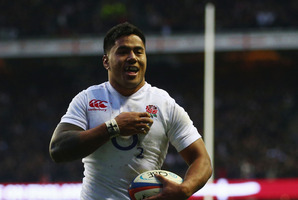 HENDRIE FOURIE
South African-born Hendrie Fourie moved to England on a club contract eight years ago. He impressed while at Leeds, earning a national call-up to the England side in 2010 after he was eligible through residency and went on to win eight test caps at flanker.
But earlier this year, the 33-yearold was forced to retire due to chronic injury. The instant he did - he was playing for Sale at the time - he received a letter from the UK Home Office informing him his work visa was no longer valid and that he had 60 days to leave the country. The IRB may have considered him an Englishman but the British Government did not.
"I can play for England but I can't get a passport to stay in the country," said a bemused Fourie. "I have always paid my taxes, have represented England, but I have to leavewhile you hear how they protect the rights of terrorists."
MANU TUILAGI
Manusamoa Tuilaigi is one of seven brothers, five of whom have played for Samoa. Tuilagi was destined for that same fate until he took a holiday to the UK to visit his siblings who were playing professionally for Leicester. Instead of returning, Tuilagi, who was 16 at the time, stayed on illegally and went to school in England.
A supreme talent, he became of interest to the England selectors once he was qualified on residency grounds, earning a place in the England Saxons teamin 2011.But he had also become of interest to the Home Office, who wanted to deport him as an illegal overstayer. It took the intervention of Tuilagi's local MP to win hima reprieve on appeal and to be allowed to stay in England indefinitely.
Granted legal status, he was able to play for England at the last World Cup - but only after he had a painful tattoo of the Pacific Star etched into his elbow, something he did to show his love of Samoa.
ANTOINE CLAASSEN
Antoine Claassen's father Wynand is a former Springbok captain and the family are considered South African rugby royalty. Antoine came to France in 2007 aftermaking only a limited impact on the South African professional scene. A loose forward who puts himself about, Claassen was a surprise call-up to the French squad to play England.
He's solid but unspectacular and his selection was badly received by some: "I don't know Claassen but it seems to me that we have what we need in terms of French loose forwards," Tweeted the wife of French No 8 Imanol Harinordoquy.
"Of course my case is unusual and I appreciate that some may not be happy," Claassen said in response. "I know that I will have more pressure than the others and that I will be observed more closely.
"I have been in France for five years and I feel better here than in South Africa. I don't know how to explain it; it's a matter of sensations. I like living here and I'd like to live here all my life."