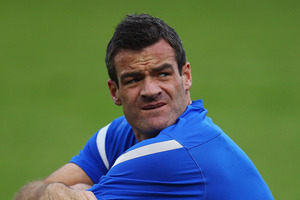 Ryan Nelsen's Toronto FC have moved their first home game of the season, deciding it would be too cold (and possibly dangerous) for players and spectators in their outdoor stadium in early March.
Temperatures in Canada's biggest city currently fluctuate between an average high of two degrees Celsius and an average low of -12C. In March, it is slightly warmer (averaging between three and minus six) but their 21,000 capacity home ground is not usable in such weather.
It is another example of the diverse challenges that will be presented to Nelsen the manager in the MLS, which is played across several different time zones. The issue has been accentuated in 2013, as the league kick-off is the earliest in its 17-year history.
After next Sunday's opening match in Vancouver, Toronto's second round game (against 2012 Eastern Conference champions Kansas City) will be played indoors at the Rogers Centre, home of baseball's Blue Jays.
"Our home field is not yet winterised." a Toronto FC spokesman told the Herald on Sunday. "Because of the cold, the snow and the ice we have to play indoors for the safety of everyone - players and fans."
A foreign concept in New Zealand, 'winterisation' refers to the process of preparing something (a stadium, a fountain, a summer home) for the harsh winter conditions. In the current situation at Toronto's BMO field the bathrooms wouldn't be available, food and merchandise stands may not be able to open and the field irrigation and water systems may not be fully usable.
The other implication for Nelsen is that Toronto's opening three matches will be played on artificial turf.
Vancouver's BC field has artificial grass while Toronto's third round game is further north in Montreal, where conditions are generally colder than Toronto. They use the infamous Olympic stadium (built for the 1976 summer games it took 30 years to pay off and is affectionately known as The Big Owe) at the start of the season when winter takes its biggest bite.
Toronto's first match on grass will be against defending MLS champions, the LA Galaxy, in Toronto on March 30.
Toronto FC have spent the last two weeks in the sunny climes of Orlando, where they played three pre-season matches (one win, two losses). Nelsen currently has 22 players on his roster and will be looking to make further additions before the start of the campaign.