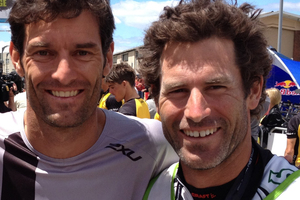 If Richard Ussher has his way, Formula One ace Mark Webber will one day be racing alongside him in the Speight's Coast to Coast.
Ussher, winner of the event five times since 2004 and second in this year's race, has formed an unlikely friendship with the Red Bull driver. Webber is contractually limited in his athletic pursuits outside F1 (due to injury fears) but Ussher sees great potential in the 36-year-old.
"I know he is very keen to do it," says Ussher of Webber, "and I'd love him to do it in the near future. He is good on the bike and we would definitely get him through the run and kayak sectors."
Webber is a passionate road and mountain biker and has joined Ussher for rides near Webber's home in England and his house in France. Webber was hit by a car while riding his bike in 2008, breaking his leg, and has to be careful but is still a capable racer on two wheels.
"There is no holding back with Mark," says Ussher. "He can be pretty loose on the bike.
You have to be a bit crazy to drive those cars at that speed so he tends to go for it. Plus his reaction speeds must be incredible which helps on the bike."
Webber and Ussher first met in 2007. As one of the world's premier multisporters, Ussher was invited to compete in the Mark Webber Challenge in Tasmania (a multi-day adventure race that includes running, mountain biking, kayaking, swimming and rock climbing) which wanted to boost its profile with more elite athletes. Ussher has since completed the event several times and finished second (in a team alongside 2013 Coast to Coast winner Braden Currie) last December.
Webber and Ussher hit it off instantly.
"He's a good mate and a great supporter," says Ussher. "He's a totally genuine guy who has helped us with contacts and logistics. He has taken a pretty active interest in my career and has enabled us to meet people we otherwise wouldn't and opened a lot of doors."
Webber will go into this year's F1 season as one of the top contenders again, after finishing third in the drivers' championship in 2010 and 2011 and sixth last year.
"His attention to detail is incredible," says Ussher, "as is his passion to challenge the limits. He is good at planting a seed; we could be having a casual chat and then you come away in a very positive frame of mind."
Webber and Ussher exist in different worlds - F1 is awash with money (Webber's salary alone in 2012 was an estimated €10 million [$15.9 million]) while multisport is a much less lucrative pursuit.
"I think wanting to achieve is a common bond between us," adds Ussher, who is the same age as the Australian. "You don't choose a sport because it will make you a millionaire - you choose it to be your best and do your best."
Having said that, Ussher admits there have been head-turning moments in Webber's company. He recalls one occasion when he and wife Elina were staying at Webber's Buckinghamshire home in the week leading up to the British Grand Prix.
"The night before the race he told us to be ready to go at 8.30am," remembers Ussher. "I was wondering how we would get to the event through all of that traffic. We were ready as planned and then a helicopter turned up in the back yard to fly us up to Silverstone."