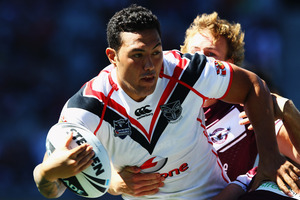 If everything goes to plan, the Warriors will be toasting their first NRL win since July in two weeks - but Feleti Mateo will be staying well away from the sponsor's product.
The Warriors backrower is on a self-imposed alcohol ban for the entire season, similar to team-mate Ben Matulino who swore off the booze in 2012. Mateo started his regime in October last year, just before the team commenced their off-season training.
"I thought I would give up for a year and see how the season goes," Mateo told the Herald on Sunday. "It's not much of a battle of sorts or anything like that - it's just one thing that might help me improve my game. If it makes a little difference, then I will take it."
The Warriors don't have a huge drinking culture compared with some other NRL clubs and the change has not been particularly difficult.
"It's the wine over dinner or one or two beers with the boys that I miss the most," says Mateo. "But it's been good, I feel a lot better and hopefully it shows on the field."
Mateo has also experimented with some dietary changes - "basically eating more natural foods and less processed stuff" - as part of the effort to put pep back in his game in 2013. Like the rest of his team, Mateo struggled last year to match the grand deeds of 2011. While he still led the league in offloads (65) he played substantially fewer minutes and often didn't have the impact required of a marquee forward.
"It was bit frustrating trying to get the right combination going with my minutes," says Mateo. "I probably struggled a bit with Bluey there - he tried to utilise me as best he could and have the team running smoothly at the same time. We couldn't get it right but hopefully this year we will. I have had some slow starts to seasons [but] this year I want to come out with all guns blazing. I've been working on my fitness as well so I can have more minutes out on the field."
Apart from club success at Mt Smart, Mateo's other big goal is State of Origin. While Warriors have been picked for Queensland before, no one based in Auckland has made the Blues team.
"The aim is to get our team in a winning environment and hopefully with that my name gets tossed around when rep footy comes around," says Mateo.
Of more concern to Warriors' fans is his future. Mateo - as he showed in 2011 - seems integral to Mt Smart success. The club is well stocked with grafters in the pack (Simon Mannering, Ben Henry, Elijah Taylor and Todd Lowrie) but need the flair and ball-playing ability that the 27-year-old provides. However, other NRL clubs - including a cashed-up Penrith - are circling as Mateo comes to the end of his contract with the Warriors. The recently married Mateo has much to weigh up.
"I would love to stay at the club - I love the place now and the direction in which the club is going but in saying that I have to keep my eyes open and see what is out there," says Mateo. "I'm in a good position where I have options and teams do want me.
"I've got more than myself to think about now. I need to know that wherever I go I will be happy. If I'm happy and my wife is happy then hopefully I'll play good football.
"Anything is possible and at my age it is a big decision; I'm obviously thinking about life after football and those factors come into play."
"We are doing everything we possibly can to retain him and Feleti is really aware of this," says coach Matt Elliott. "I know he has things to weigh up. He's recently married, they are an Australian couple and there are some decisions to be made on that side of things. There is a responsibility to himself and his family but our fans can be assured that we are doing all we possibly can."

Play Virtual & Fantasy League
Test your tipping skills with Virtual or create your dream team with Fantasy NRL and be in to win a slice of over $7,000 in prizes.
Be part of the game and sign up now.