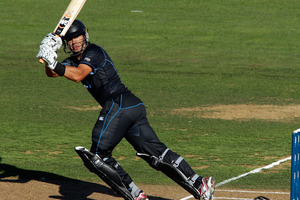 If past form is a gauge, Ross Taylor shapes as New Zealand's key test batsman against England, provided he is certain about what he can leave outside off stump, controls the urge to hit across the line and doesn't get exposed to the new ball early by a brittle top three.
Taylor has played two three-test series against England, home and away in 2008. Their arrival coincided with his first test innings at home. Taylor made 120 and New Zealand won the opening test of the series. Taylor also made his highest test score of 154 not out against England at Old Trafford against an attack which included tourists James Anderson, Stuart Broad and Monty Panesar.
He averages 50.27 in 12 innings against England compared to 43.57 overall. The English bowlers also found the middle of his bat last week as he returned to form with a century at McLean Park in the second one-dayer.
Taylor has never played a test at Auckland's Eden Park but his averages of 65 in three tests at Dunedin's University Oval and 57.80 in six tests at Wellington's Basin Reserve bode well.
Hints of vulnerability emerge when his dismissal chart is analysed. Five of his 11 dismissals against England have come with the ball moving away from him, be it pace or spin. The ability of Anderson and Broad to swing the ball are a key challenge for Taylor to overcome, especially with his tendency to go hard at the ball early on occasion.
His century against England on Wednesday was a blueprint. Before he accelerated beyond 50 he was content to leave the ball or defend. Taylor looked at ease watching the ball and being prepared to play off the back foot. He was content to work singles -and finished with 47 of them.
Taylor's experiences against England also suggest he is a LBW risk. LBW. Four of his 11 dismissals against England have come that way. If the ball swings in late or goes on straight (in the case of arm balls from Graeme Swann or Panesar) then Taylor needs to curb an instinct to hit the ball through the legside.
In addition to Swann, Panesar could be a menace to Taylor. His left-arm orthodox deliveries have dismissed Taylor four times in tests, second to Harbhajan Singh (5) and equal with fellow left-armer Rangana Herath as bowlers to whom Taylor is most susceptible.
Taylor's vulnerability against swing is exacerbated the earlier he comes in. Whenever he has come in before the 15th over against England, he has never got past 21 and averages 17.25 in those circumstances.
Only one of his eight test centuries have come with his arrival at the wicket before the ninth over - his heroic 142 against Sri Lanka in Colombo.