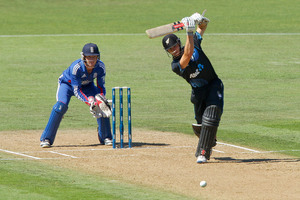 Kane Williamson's arrival on the international cricket scene has brought purist applause. The grace of his off-drives, the control from the back foot and the finesse of his late cuts have added an offside balance to New Zealand's 'wagon wheel'. He has brought precise timing, conscientious footwork and a still head at the point of delivery back into vogue.
Williamson made his one-day debut in August 2010 - two days after his 20th birthday - and played his maiden test less than three months later. He became just the eighth New Zealander to score a test century on debut. He has since cemented the No3 role in both those formats while uncertainty remains over his place in Twenty20s, despite a strike rate of 118.
The 22-year-old has been forced to adapt fast in a team lacking the presence of Daniel Vettori, Ross Taylor, Tim Southee and Jesse Ryder in various capacities over the last few months. In addition, Scott Styris has retired, Jacob Oram has stepped away from his New Zealand contract and Chris Martin is being used less.
Experience and any form of consistent results have been absent since South Africa toured last summer.
"It feels like the team's changed a lot since I arrived," Williamson says. "We had quite a bit of experience but constant injuries and players being out for various reasons left us struggling. On the face of it, that probably looks like more responsibility for the likes of myself but I've tried not to pile on the pressure."
Williamson has arguably contributed as much as anyone to New Zealand's batting over the last year. Former captain Taylor justifiably received the most kudos for the win in Colombo with his 142 and 74, but Williamson's 135 in the first innings - as part of a New Zealand record 262-run partnership in Sri Lanka - was also crucial. Few gutsier innings have been played than Williamson eking out a draw (and an unbeaten century) against a South African attack including Dale Steyn, Vern Philander and Morne Morkel.
In ODIs, his 145 not out at Kimberley enabled New Zealand to take out their first one-day series in South Africa and last weekend's 74 against England anchored the opening win against England. He also ushered New Zealand from the ignominy of a first T20 defeat to Zimbabwe with five scoring shots in as many balls to chase down a target of 201 with two deliveries to spare last February.
Williamson struggles to pinpoint how he builds a successful innings. "I find it really comes down to watching the ball and keeping your preparation simple. Various pressures, like the game situation, affect that and people tend to complicate things under pressure. I just generally try to play straight and 'in the V' early before attempting any pull shots." That is reflected in the Williamson wagon wheel which tends to build from the offside to the legside as confidence builds.
Williamson's one-day credentials suffice with an average of 37.41 (after the second England ODI) but his average of 30.27 after 20 tests needs boosting during the England series. He acknowledges a lull between his South African and Sri Lankan test centuries; he passed 50 once in 10 innings against the West indies, India and Sri Lanka.
"I've had some good bits and a lot of average bits in my career so far; the important thing is consistency," Williamson says.
By comparison, after the same number of tests Martin Crowe (who debuted aged 19) averaged 28.18, Glenn Turner (debuted age 21) averaged 49.60 after 20 tests while Ross Taylor (debuted age 23) averaged 41.55. If Williamson wants to make the step from the tag of 'promising player' to 'world-class No3' there is no better time than now against bowlers such as Jimmy Anderson, Steve Finn, Stuart Broad and Graeme Swann who arguably form the world's second-best attack behind South Africa.
"They are well-balanced," Williamson says. "Anderson and Broad swing the ball at pace and Finn gets good bounce. You don't face many bowlers who can get the ball to move in and away like Anderson."