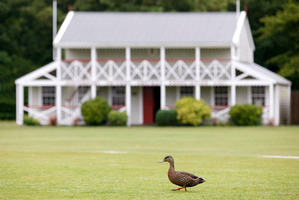 Friday marked the second anniversary since the 2011 Christchurch earthquake but the city has still not established a future international cricket venue.
Canterbury Cricket's plans to develop an oval in the central-based Hagley Park have met with opposition, including a Save Hagley Park protest movement. A temporary ground within the wider park has already been set up for domestic cricket this summer but 239 submissions relating to its permanent function are in front of the Environment Court.
Canterbury Cricket's aim is to have a ground for use at the 2015 World Cup. That decision is expected in May. No internationals have been held in Christchurch since the earthquake and the last test was played there in 2006. AMI Stadium and its potential substitute, the QE II village green, are unusable due to earthquake damage.
Therese Walsh, the New Zealand boss of the 2015 World Cup, says Christchurch deserves some extra understanding in the venue awards process. "I'd be disappointed if Christchurch is not involved in the event in some capacity but we're aware there are differing views as to what is best.
Ultimately, it is an issue for Canterbury to resolve and at this stage we're happy to stand back and observe whatever the majority of people want to see happen.
"The submission is based on holding matches at Hagley Oval and we realise all the work won't be done on the ground before the announcement of venues."
Canterbury Cricket's application for resource consent advocates the creation of a ground which has capacity for 2000 to 20,000 people on 12 days a year so they can cater for increased numbers when domestic T20 or international cricket is played. Four lighting towers, a new pavilion with 440 seats and a 2.5m-high grass embankment are also proposed.
Fences will only be put up on those estimated 12 days where the public will be asked to pay an entry fee, otherwise there will be free access. The redevelopment is expected to cost somewhere in the vicinity of $20 million and will cover two per cent of the overall Hagley Park acreage.
Some argue that money could be better spent on more crucial services and amenities in a community still reeling from earthquake damage. The counter-argument is that having a world class facility - which will be used for club cricket when international or provincial matches are not being played - will do wonders for community wellbeing. Building time should not be an issue given the speed and effort over a matter of months to revamp the rugby stadium which opened last year.
The Save Hagley Park movement claims on its website that the proposal is simply a "land grab financed by ratepayers". Their mission statement says: "Hagley Park Christchurch needs to remain the beautiful, green, open space that we all cherish, not filled with buildings, grandstands and carparks."
They also hold fears for the nearby hospital on game days because they believe limited parking will hinder the staff, patients and their families.
Their desire is for a cricket ground to replace the old AMI Stadium once demolition is complete. If that solution was chosen, it would see Christchurch miss out on hosting at the World Cup and continue to be absent from international cricket.