Cricket used to mean beer, sunburn and bad headgear on the Eden Park terraces.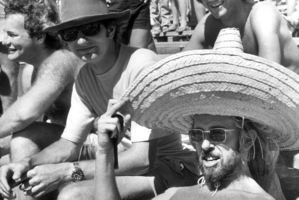 Concrete terraces were once home to hordes of test cricket fans at Eden Park, where a hat was a statement of a man's character. "My wife just saw the photo for the first time," says Ron Backhouse, pictured at the back in his towelling bucket hat. "She said, 'oh my goodness, look at that hat, it's horrible'."
Backhouse, a trusts and estates lawyer in Hamilton, had just begun practicing law, as had his varsity friend Tom Rose, in the foreground under the sombrero.
Rose, now 62, says the day the photograph appeared, he was appearing in the Pukekohe District Court before a magistrate. "Sometimes the magistrates could be nice as pie to you and other times they'd be barking at you. This Mr Gillies said sternly, 'Mr Rose, in 10 minutes I wish to see you in my chambers'. I thought, 'oh hell what have I done now?' When I got in there he had the paper open and it turned out he just wanted to talk about cricket."
Back then, sunscreen was almost unheard of, and hats were more about blocking the glare so you could see the pitch. These larrikins of test cricket used to spend the first three days of every international five-dayer in Auckland. "We went to Eden Park quite a lot. Tests always started on a Friday and we'd go every day until getting back to work on Monday. "You could take your own beer into the grounds then and that'll be what Tom has in his vessel."
Backhouse, now 63, does remember some of the cricket. "It was the test against India and I think their spinners tore our batsmen apart." New Zealand's batsmen were pretty much tossed out. Bhagwath Chandrasekhar took six wickets in the first innings and Erapalli Prasanna took eight in the second. India won by eight wickets.
Backhouse went to many more games and watched as the clamps went down on drunken behaviour. "It got quite entertaining when the alcohol bans came in. One time they had a police officer sitting up in the terraces in football shorts. He'd radio in reports of people having a sneaky drink and the uniforms would come stomping up and drag the poor fellow out."
The test our hatted fans were pictured at preceded one-day cricket at Eden Park. The following month, in February 1976, New Zealand beat India by 80 runs in the first 35-over international on the park. Glenn Turner opened with a 52 and a young bloke named Lance Cairns belted two sixes on his way to 31. One-day fever had a hold of the Eden Park crowds.
Backhouse has spent 40 years in property law. Rose now practises property law in Sydney - but retains his Kiwi passport.