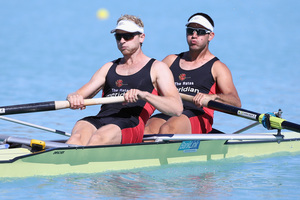 Jade Uru and Hamish Bond have won their fifth national rowing championship title but not without a struggle.
The men's premier pair from Southern RPC had to stop during the race on Lake Ruataniwha yesterday to try to fix problems they had with their steering.
They lost their lead of a couple of boat lengths as the other crews rowed past them. The steering made it difficult for them to stay straight in their lane and meant Bond had to push harder than he would have liked to claw back on the others.
They still managed to win the race, but not as convincingly as they would have liked.
Silver medallists were Auckland RPC's Bobby Kells and Adam Tripp in 6:44.48, just over a boat length behind Uru and Bond, and bronze went to the other Southern RPC crew of James Lassche and Armin Svoboda jnr in 6:48.86.
Thirty finals were raced yesterday at the BankLink championships.
The lightweight men's single sculls was won by German Jost Schoemann-Finck ahead of 2012 Olympic bronze medallist Peter Taylor from Auckland RPC. Taylor and Schoemann-Finck shared the podium for first place, as international winners are entitled to a medal, but not the title.
Duncan Grant of Central RPC was third and won silver and Adam Ling got the bronze for Waikato RPC.
Women's premier pair Rebecca Scown and Linda Mathews of Central RPC had a fast finish as they stormed up on the crews from Southern and Auckland RPC but it wasn't enough, and they were third. Eve MacFarlane and Grace Prendergast won gold in a very strong race for Southern RPC in a time of 7:19.53 ahead of Auckland RPC's Kelsey Bevan and Kayla Pratt in 7:21.43 followed closely in 0.2s by Scown and Mathews in 7:21.63.
Central RPC's Joseph Sullivan and Robbie Manson retained their men's premier double title after suffering a seat-gear breakage on the way to the start. Sullivan and Manson got their nose in front of young up-and-comers Hayden Cohen and Nathan Flannery at the finish to scoop the gold.
Cohen and Flannery are under-23 world champions in the men's double sculls, so they proved to be tough competition for Sullivan and Manson, who beat them by only a boat canvas in a time of 6:34.52.
Sullivan said the young guns "set the pace for the race and got out in front, we couldn't afford to let them go. These guys are ready to take your seat, it just shows the strength of New Zealand rowing at the moment.
"There is a big target on the Olympians' backs."
Manson had a three-month break from rowing after the Olympics and Sullivan had a six-month break, which left them only a few months to get in shape for the national championships.