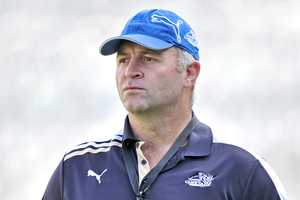 When you have two sides petrified of losing you have the ingredients for an explosive Super Rugby match and the Battle of Bloem tomorrow will be part of a cracking way to start the South African season, and every bit as appetising as the Stormers' showdown with the Bulls and the Kings' historic first game tomorrow.
The Sharks have been speaking about the need to start the 2013 season well pretty much since they started the 2012 season so badly. They lost four of their seven opening matches before recovering spectacularly when the gun was put to their heads and they don't want a repeat of that pressure this year.
The Cheetahs are just as eager to start on a winning note. They will be packing their bags today for their departure tomorrow morning for Hamilton. So they have the 2012 runners-up in the first round and the champions in New Zealand in the second. No wonder coach Naka Drotske is desperate to make the most of home ground advantage tomorrow.
"We believe that we can beat any team in Bloemfontein and this game is all the more vital because the next day we get on a plane and leave on a four-week tour," Drotske said. "We know the importance of starting well and it will relieve a lot of early season pressure if we can leave home with a win under our belts."
History is on the side of the Sharks, though. They have beaten the Cheetahs in their last four Super Rugby matches and have been victorious in their last three visits to the Free State Stadium.
The Cheetahs are even more notorious than the Sharks when it comes to starting slowly in the competition. In opening round matches, they have won just one from seven since returning to Super Rugby in 2006.
Drotske's Sharks' counterpart, John Plumtree, said the respect his team has for the improving Cheetahs is reflected in his selections, which have seen him opt for a highly mobile side.
"The Cheetahs have a lot of speed and genuine threats in their backline and we have to be able to match that defensively," Plumtree said.
"The Stormers have won the conference in the last couple of years and that's the easiest route to the final," he said. "This is a conference game against the Cheetahs and we have put a huge emphasis on the conference games."